8-DAY'S ISLAND-HOPPING IN THE SOUTHERN IONIAN SEA
These are totally island-hopping waters with a mixture of short and longer beats, but all very comfortable. These islands – Zante, Ithaka and Kefalonia – spring straight out of the pages of history. Once again, we mainly keep to the smaller ports of call.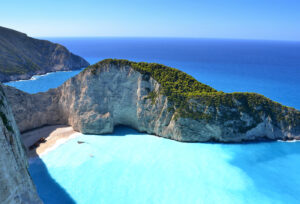 Embarkation at 15:00. Enjoy a welcome drink with your fellow travellers and get to know your crew in preparation for your first dinner on board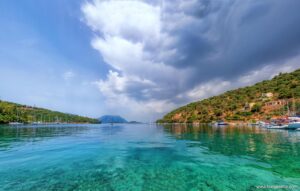 After breakfast swim in the crystal blue waters of Meganisi or take one of our SUPs or a Kayak to explore the coves of this quiet place with its lush green pine trees. Find a nice taverna for lunch but don't eat too much – tonight is our Greek Party Night where you get to try local delicacies and dance the Syrtaki.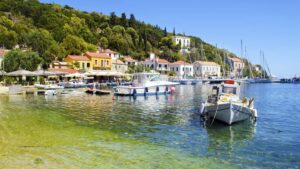 Sailing in the wake of the legendary Odysseus we arrive at his home island of Ithaka sometime after lunch having stopped for a swim. Homer wrote a lot about Ithaka and it's easy to see why he was so taken with it. We'll have time to chill-out in the village of Vathy and have dinner in one of its traditional tavernas.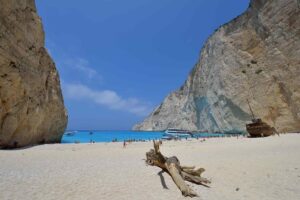 Our route takes us past the famous blue caves of Zante, a breath-taking site where you can enjoy a swim or snorkel in the beautiful bay. In the late afternoon we arrive in Zante town, and you have the chance to stroll around town or rent a scooter and explore. In the evening check out the waterfront and have dinner in one of the tavernas along the promenade.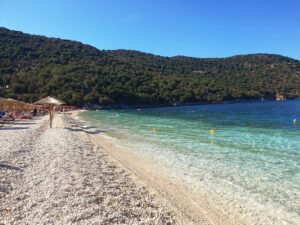 A longer beat today with a swimstop in turquoise waters and a barbeque lunch on board before arriving late afternoon. Kefalonia is famously the island where the movie 'Captain Corelli's Mandolin' was filmed. The delightful waterfront and yacht harbour give the village a unique charm and reflect the rich heritage of the island. A visit to the nearby Melisani cave with its underwater lake and stalactites is a must. Sami is surrounded by a dream landscape of verdant imposing hills and stunning coves. Enjoy a wonderful dinner in town.
DAY 6 Kefalonia-Fiscardo: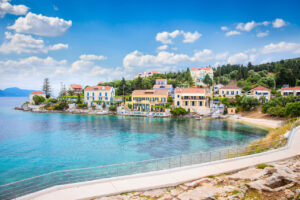 We set sail after breakfast on the way towards Fiskardo, via a swimstop arriving in this picturesque fishing village in the afternoon. Fiscardo is recognized as a traditional settlement as it is one of the few villages that remained untouched from the major earthquake of 1953. Today it is known for its cosmopolitan and warm atmosphere which you'll find in the tavernas over dinner.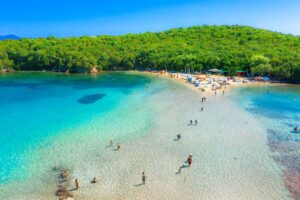 We depart Fiscardo heading for Lefkas and the natural harbour of Syvota.  The harbour is a quiet spot during the day, but a much-loved destination for yacht owners. The picturesque waterfront is lined with fish taverns and restaurants, perfect for lunch. We set sail for Lefkas town in the late afternoon and tonight is our Captain's Dinner where we will enjoy one last meal together and toast that we meet again soon.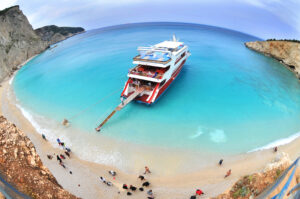 Disembarkation after breakfast.
2
PRICE
General price:
GenPrice ()
0.00

€

/ ticket
|
Per Person ()
1.00

€

/ ticket
3
PRICE
General price:
GenPrice ()
0.00

€

/ ticket
|
Per Person ()
1.00

€

/ ticket
4
PRICE
General price:
GenPrice ()
0.00

€

/ ticket
|
Per Person ()
1.00

€

/ ticket
5
PRICE
General price:
GenPrice ()
0.00

€

/ ticket
|
Per Person ()
1.00

€

/ ticket
6
PRICE
General price:
GenPrice ()
0.00

€

/ ticket
|
Per Person ()
1.00

€

/ ticket
7
PRICE
General price:
GenPrice ()
0.00

€

/ ticket
|
Per Person ()
1.00

€

/ ticket
8
PRICE
General price:
GenPrice ()
0.00

€

/ ticket
|
Per Person ()
1.00

€

/ ticket
9
PRICE
General price:
GenPrice ()
0.00

€

/ ticket
|
Per Person ()
1.00

€

/ ticket
10
PRICE
General price:
GenPrice ()
0.00

€

/ ticket
|
Per Person ()
1.00

€

/ ticket
11
PRICE
General price:
GenPrice ()
0.00

€

/ ticket
|
Per Person ()
1.00

€

/ ticket
12
PRICE
General price:
GenPrice ()
0.00

€

/ ticket
|
Per Person ()
1.00

€

/ ticket
13
PRICE
General price:
GenPrice ()
0.00

€

/ ticket
|
Per Person ()
1.00

€

/ ticket
14
PRICE
General price:
GenPrice ()
0.00

€

/ ticket
|
Per Person ()
1.00

€

/ ticket
15
PRICE
General price:
GenPrice ()
0.00

€

/ ticket
|
Per Person ()
1.00

€

/ ticket
16
PRICE
General price:
GenPrice ()
0.00

€

/ ticket
|
Per Person ()
1.00

€

/ ticket
17
PRICE
General price:
GenPrice ()
0.00

€

/ ticket
|
Per Person ()
1.00

€

/ ticket
18
PRICE
General price:
GenPrice ()
0.00

€

/ ticket
|
Per Person ()
1.00

€

/ ticket
19
PRICE
General price:
GenPrice ()
0.00

€

/ ticket
|
Per Person ()
1.00

€

/ ticket
20
PRICE
General price:
GenPrice ()
0.00

€

/ ticket
|
Per Person ()
1.00

€

/ ticket
21
PRICE
General price:
GenPrice ()
0.00

€

/ ticket
|
Per Person ()
1.00

€

/ ticket
22
PRICE
General price:
GenPrice ()
0.00

€

/ ticket
|
Per Person ()
1.00

€

/ ticket
23
PRICE
General price:
GenPrice ()
0.00

€

/ ticket
|
Per Person ()
1.00

€

/ ticket
24
PRICE
General price:
GenPrice ()
0.00

€

/ ticket
|
Per Person ()
1.00

€

/ ticket
25
PRICE
General price:
GenPrice ()
0.00

€

/ ticket
|
Per Person ()
1.00

€

/ ticket
26
PRICE
General price:
GenPrice ()
0.00

€

/ ticket
|
Per Person ()
1.00

€

/ ticket
27
PRICE
General price:
GenPrice ()
0.00

€

/ ticket
|
Per Person ()
1.00

€

/ ticket
28
PRICE
General price:
GenPrice ()
0.00

€

/ ticket
|
Per Person ()
1.00

€

/ ticket
29
PRICE
General price:
GenPrice ()
0.00

€

/ ticket
|
Per Person ()
1.00

€

/ ticket
30
PRICE
General price:
GenPrice ()
0.00

€

/ ticket
|
Per Person ()
1.00

€

/ ticket
31
PRICE
General price:
GenPrice ()
0.00

€

/ ticket
|
Per Person ()
1.00

€

/ ticket
1
PRICE
General price:
GenPrice ()
0.00

€

/ ticket
|
Per Person ()
1.00

€

/ ticket
2
PRICE
General price:
GenPrice ()
0.00

€

/ ticket
|
Per Person ()
1.00

€

/ ticket
3
PRICE
General price:
GenPrice ()
0.00

€

/ ticket
|
Per Person ()
1.00

€

/ ticket
4
PRICE
General price:
GenPrice ()
0.00

€

/ ticket
|
Per Person ()
1.00

€

/ ticket
5
PRICE
General price:
GenPrice ()
0.00

€

/ ticket
|
Per Person ()
1.00

€

/ ticket
6
PRICE
General price:
GenPrice ()
0.00

€

/ ticket
|
Per Person ()
1.00

€

/ ticket
7
PRICE
General price:
GenPrice ()
0.00

€

/ ticket
|
Per Person ()
1.00

€

/ ticket
8
PRICE
General price:
GenPrice ()
0.00

€

/ ticket
|
Per Person ()
1.00

€

/ ticket
9
PRICE
General price:
GenPrice ()
0.00

€

/ ticket
|
Per Person ()
1.00

€

/ ticket
10
PRICE
General price:
GenPrice ()
0.00

€

/ ticket
|
Per Person ()
1.00

€

/ ticket
11
PRICE
General price:
GenPrice ()
0.00

€

/ ticket
|
Per Person ()
1.00

€

/ ticket
12
PRICE
General price:
GenPrice ()
0.00

€

/ ticket
|
Per Person ()
1.00

€

/ ticket
13
PRICE
General price:
GenPrice ()
0.00

€

/ ticket
|
Per Person ()
1.00

€

/ ticket
14
PRICE
General price:
GenPrice ()
0.00

€

/ ticket
|
Per Person ()
1.00

€

/ ticket
15
PRICE
General price:
GenPrice ()
0.00

€

/ ticket
|
Per Person ()
1.00

€

/ ticket
16
PRICE
General price:
GenPrice ()
0.00

€

/ ticket
|
Per Person ()
1.00

€

/ ticket
17
PRICE
General price:
GenPrice ()
0.00

€

/ ticket
|
Per Person ()
1.00

€

/ ticket
18
PRICE
General price:
GenPrice ()
0.00

€

/ ticket
|
Per Person ()
1.00

€

/ ticket
19
PRICE
General price:
GenPrice ()
0.00

€

/ ticket
|
Per Person ()
1.00

€

/ ticket
20
PRICE
General price:
GenPrice ()
0.00

€

/ ticket
|
Per Person ()
1.00

€

/ ticket
21
PRICE
General price:
GenPrice ()
0.00

€

/ ticket
|
Per Person ()
1.00

€

/ ticket
22
PRICE
General price:
GenPrice ()
0.00

€

/ ticket
|
Per Person ()
1.00

€

/ ticket
23
PRICE
General price:
GenPrice ()
0.00

€

/ ticket
|
Per Person ()
1.00

€

/ ticket
24
PRICE
General price:
GenPrice ()
0.00

€

/ ticket
|
Per Person ()
1.00

€

/ ticket
25
PRICE
General price:
GenPrice ()
0.00

€

/ ticket
|
Per Person ()
1.00

€

/ ticket
26
PRICE
General price:
GenPrice ()
0.00

€

/ ticket
|
Per Person ()
1.00

€

/ ticket
27
PRICE
General price:
GenPrice ()
0.00

€

/ ticket
|
Per Person ()
1.00

€

/ ticket
28
PRICE
General price:
GenPrice ()
0.00

€

/ ticket
|
Per Person ()
1.00

€

/ ticket
29
PRICE
General price:
GenPrice ()
0.00

€

/ ticket
|
Per Person ()
1.00

€

/ ticket
30
PRICE
General price:
GenPrice ()
0.00

€

/ ticket
|
Per Person ()
1.00

€

/ ticket
31
PRICE
General price:
GenPrice ()
0.00

€

/ ticket
|
Per Person ()
1.00

€

/ ticket
1
PRICE
General price:
GenPrice ()
0.00

€

/ ticket
|
Per Person ()
1.00

€

/ ticket
2
PRICE
General price:
GenPrice ()
0.00

€

/ ticket
|
Per Person ()
1.00

€

/ ticket
3
PRICE
General price:
GenPrice ()
0.00

€

/ ticket
|
Per Person ()
1.00

€

/ ticket
4
PRICE
General price:
GenPrice ()
0.00

€

/ ticket
|
Per Person ()
1.00

€

/ ticket
29
PRICE
General price:
GenPrice ()
0.00

€

/ ticket
|
Per Person ()
1.00

€

/ ticket
30
PRICE
General price:
GenPrice ()
0.00

€

/ ticket
|
Per Person ()
1.00

€

/ ticket
31
PRICE
General price:
GenPrice ()
0.00

€

/ ticket
|
Per Person ()
1.00

€

/ ticket
1
PRICE
General price:
GenPrice ()
0.00

€

/ ticket
|
Per Person ()
1.00

€

/ ticket
2
PRICE
General price:
GenPrice ()
0.00

€

/ ticket
|
Per Person ()
1.00

€

/ ticket
3
PRICE
General price:
GenPrice ()
0.00

€

/ ticket
|
Per Person ()
1.00

€

/ ticket
4
PRICE
General price:
GenPrice ()
0.00

€

/ ticket
|
Per Person ()
1.00

€

/ ticket
5
PRICE
General price:
GenPrice ()
0.00

€

/ ticket
|
Per Person ()
1.00

€

/ ticket
6
PRICE
General price:
GenPrice ()
0.00

€

/ ticket
|
Per Person ()
1.00

€

/ ticket
7
PRICE
General price:
GenPrice ()
0.00

€

/ ticket
|
Per Person ()
1.00

€

/ ticket
8
PRICE
General price:
GenPrice ()
0.00

€

/ ticket
|
Per Person ()
1.00

€

/ ticket
9
PRICE
General price:
GenPrice ()
0.00

€

/ ticket
|
Per Person ()
1.00

€

/ ticket
10
PRICE
General price:
GenPrice ()
0.00

€

/ ticket
|
Per Person ()
1.00

€

/ ticket
11
PRICE
General price:
GenPrice ()
0.00

€

/ ticket
|
Per Person ()
1.00

€

/ ticket
12
PRICE
General price:
GenPrice ()
0.00

€

/ ticket
|
Per Person ()
1.00

€

/ ticket
13
PRICE
General price:
GenPrice ()
0.00

€

/ ticket
|
Per Person ()
1.00

€

/ ticket
14
PRICE
General price:
GenPrice ()
0.00

€

/ ticket
|
Per Person ()
1.00

€

/ ticket
15
PRICE
General price:
GenPrice ()
0.00

€

/ ticket
|
Per Person ()
1.00

€

/ ticket
16
PRICE
General price:
GenPrice ()
0.00

€

/ ticket
|
Per Person ()
1.00

€

/ ticket
17
PRICE
General price:
GenPrice ()
0.00

€

/ ticket
|
Per Person ()
1.00

€

/ ticket
18
PRICE
General price:
GenPrice ()
0.00

€

/ ticket
|
Per Person ()
1.00

€

/ ticket
19
PRICE
General price:
GenPrice ()
0.00

€

/ ticket
|
Per Person ()
1.00

€

/ ticket
20
PRICE
General price:
GenPrice ()
0.00

€

/ ticket
|
Per Person ()
1.00

€

/ ticket
21
PRICE
General price:
GenPrice ()
0.00

€

/ ticket
|
Per Person ()
1.00

€

/ ticket
22
PRICE
General price:
GenPrice ()
0.00

€

/ ticket
|
Per Person ()
1.00

€

/ ticket
23
PRICE
General price:
GenPrice ()
0.00

€

/ ticket
|
Per Person ()
1.00

€

/ ticket
24
PRICE
General price:
GenPrice ()
0.00

€

/ ticket
|
Per Person ()
1.00

€

/ ticket
25
PRICE
General price:
GenPrice ()
0.00

€

/ ticket
|
Per Person ()
1.00

€

/ ticket
26
PRICE
General price:
GenPrice ()
0.00

€

/ ticket
|
Per Person ()
1.00

€

/ ticket
27
PRICE
General price:
GenPrice ()
0.00

€

/ ticket
|
Per Person ()
1.00

€

/ ticket
28
PRICE
General price:
GenPrice ()
0.00

€

/ ticket
|
Per Person ()
1.00

€

/ ticket
29
PRICE
General price:
GenPrice ()
0.00

€

/ ticket
|
Per Person ()
1.00

€

/ ticket
1
PRICE
General price:
GenPrice ()
0.00

€

/ ticket
|
Per Person ()
1.00

€

/ ticket
2
PRICE
General price:
GenPrice ()
0.00

€

/ ticket
|
Per Person ()
1.00

€

/ ticket
3
PRICE
General price:
GenPrice ()
0.00

€

/ ticket
|
Per Person ()
1.00

€

/ ticket
26
PRICE
General price:
GenPrice ()
0.00

€

/ ticket
|
Per Person ()
1.00

€

/ ticket
27
PRICE
General price:
GenPrice ()
0.00

€

/ ticket
|
Per Person ()
1.00

€

/ ticket
28
PRICE
General price:
GenPrice ()
0.00

€

/ ticket
|
Per Person ()
1.00

€

/ ticket
29
PRICE
General price:
GenPrice ()
0.00

€

/ ticket
|
Per Person ()
1.00

€

/ ticket
1
PRICE
General price:
GenPrice ()
0.00

€

/ ticket
|
Per Person ()
1.00

€

/ ticket
2
PRICE
General price:
GenPrice ()
0.00

€

/ ticket
|
Per Person ()
1.00

€

/ ticket
3
PRICE
General price:
GenPrice ()
0.00

€

/ ticket
|
Per Person ()
1.00

€

/ ticket
4
PRICE
General price:
GenPrice ()
0.00

€

/ ticket
|
Per Person ()
1.00

€

/ ticket
5
PRICE
General price:
GenPrice ()
0.00

€

/ ticket
|
Per Person ()
1.00

€

/ ticket
6
PRICE
General price:
GenPrice ()
0.00

€

/ ticket
|
Per Person ()
1.00

€

/ ticket
7
PRICE
General price:
GenPrice ()
0.00

€

/ ticket
|
Per Person ()
1.00

€

/ ticket
8
PRICE
General price:
GenPrice ()
0.00

€

/ ticket
|
Per Person ()
1.00

€

/ ticket
9
PRICE
General price:
GenPrice ()
0.00

€

/ ticket
|
Per Person ()
1.00

€

/ ticket
10
PRICE
General price:
GenPrice ()
0.00

€

/ ticket
|
Per Person ()
1.00

€

/ ticket
11
PRICE
General price:
GenPrice ()
0.00

€

/ ticket
|
Per Person ()
1.00

€

/ ticket
12
PRICE
General price:
GenPrice ()
0.00

€

/ ticket
|
Per Person ()
1.00

€

/ ticket
13
PRICE
General price:
GenPrice ()
0.00

€

/ ticket
|
Per Person ()
1.00

€

/ ticket
14
PRICE
General price:
GenPrice ()
0.00

€

/ ticket
|
Per Person ()
1.00

€

/ ticket
15
PRICE
General price:
GenPrice ()
0.00

€

/ ticket
|
Per Person ()
1.00

€

/ ticket
16
PRICE
General price:
GenPrice ()
0.00

€

/ ticket
|
Per Person ()
1.00

€

/ ticket
17
PRICE
General price:
GenPrice ()
0.00

€

/ ticket
|
Per Person ()
1.00

€

/ ticket
18
PRICE
General price:
GenPrice ()
0.00

€

/ ticket
|
Per Person ()
1.00

€

/ ticket
19
PRICE
General price:
GenPrice ()
0.00

€

/ ticket
|
Per Person ()
1.00

€

/ ticket
20
PRICE
General price:
GenPrice ()
0.00

€

/ ticket
|
Per Person ()
1.00

€

/ ticket
21
PRICE
General price:
GenPrice ()
0.00

€

/ ticket
|
Per Person ()
1.00

€

/ ticket
22
PRICE
General price:
GenPrice ()
0.00

€

/ ticket
|
Per Person ()
1.00

€

/ ticket
23
PRICE
General price:
GenPrice ()
0.00

€

/ ticket
|
Per Person ()
1.00

€

/ ticket
24
PRICE
General price:
GenPrice ()
0.00

€

/ ticket
|
Per Person ()
1.00

€

/ ticket
25
PRICE
General price:
GenPrice ()
0.00

€

/ ticket
|
Per Person ()
1.00

€

/ ticket
26
PRICE
General price:
GenPrice ()
0.00

€

/ ticket
|
Per Person ()
1.00

€

/ ticket
27
PRICE
General price:
GenPrice ()
0.00

€

/ ticket
|
Per Person ()
1.00

€

/ ticket
28
PRICE
General price:
GenPrice ()
0.00

€

/ ticket
|
Per Person ()
1.00

€

/ ticket
29
PRICE
General price:
GenPrice ()
0.00

€

/ ticket
|
Per Person ()
1.00

€

/ ticket
30
PRICE
General price:
GenPrice ()
0.00

€

/ ticket
|
Per Person ()
1.00

€

/ ticket
31
PRICE
General price:
GenPrice ()
0.00

€

/ ticket
|
Per Person ()
1.00

€

/ ticket
1
PRICE
General price:
GenPrice ()
0.00

€

/ ticket
|
Per Person ()
1.00

€

/ ticket
2
PRICE
General price:
GenPrice ()
0.00

€

/ ticket
|
Per Person ()
1.00

€

/ ticket
3
PRICE
General price:
GenPrice ()
0.00

€

/ ticket
|
Per Person ()
1.00

€

/ ticket
4
PRICE
General price:
GenPrice ()
0.00

€

/ ticket
|
Per Person ()
1.00

€

/ ticket
5
PRICE
General price:
GenPrice ()
0.00

€

/ ticket
|
Per Person ()
1.00

€

/ ticket
6
PRICE
General price:
GenPrice ()
0.00

€

/ ticket
|
Per Person ()
1.00

€

/ ticket
7
PRICE
General price:
GenPrice ()
0.00

€

/ ticket
|
Per Person ()
1.00

€

/ ticket
8
PRICE
General price:
GenPrice ()
0.00

€

/ ticket
|
Per Person ()
1.00

€

/ ticket
9
PRICE
General price:
GenPrice ()
0.00

€

/ ticket
|
Per Person ()
1.00

€

/ ticket
10
PRICE
General price:
GenPrice ()
0.00

€

/ ticket
|
Per Person ()
1.00

€

/ ticket
11
PRICE
General price:
GenPrice ()
0.00

€

/ ticket
|
Per Person ()
1.00

€

/ ticket
12
PRICE
General price:
GenPrice ()
0.00

€

/ ticket
|
Per Person ()
1.00

€

/ ticket
13
PRICE
General price:
GenPrice ()
0.00

€

/ ticket
|
Per Person ()
1.00

€

/ ticket
14
PRICE
General price:
GenPrice ()
0.00

€

/ ticket
|
Per Person ()
1.00

€

/ ticket
15
PRICE
General price:
GenPrice ()
0.00

€

/ ticket
|
Per Person ()
1.00

€

/ ticket
16
PRICE
General price:
GenPrice ()
0.00

€

/ ticket
|
Per Person ()
1.00

€

/ ticket
17
PRICE
General price:
GenPrice ()
0.00

€

/ ticket
|
Per Person ()
1.00

€

/ ticket
18
PRICE
General price:
GenPrice ()
0.00

€

/ ticket
|
Per Person ()
1.00

€

/ ticket
19
PRICE
General price:
GenPrice ()
0.00

€

/ ticket
|
Per Person ()
1.00

€

/ ticket
20
PRICE
General price:
GenPrice ()
0.00

€

/ ticket
|
Per Person ()
1.00

€

/ ticket
21
PRICE
General price:
GenPrice ()
0.00

€

/ ticket
|
Per Person ()
1.00

€

/ ticket
22
PRICE
General price:
GenPrice ()
0.00

€

/ ticket
|
Per Person ()
1.00

€

/ ticket
23
PRICE
General price:
GenPrice ()
0.00

€

/ ticket
|
Per Person ()
1.00

€

/ ticket
24
PRICE
General price:
GenPrice ()
0.00

€

/ ticket
|
Per Person ()
1.00

€

/ ticket
25
PRICE
General price:
GenPrice ()
0.00

€

/ ticket
|
Per Person ()
1.00

€

/ ticket
26
PRICE
General price:
GenPrice ()
0.00

€

/ ticket
|
Per Person ()
1.00

€

/ ticket
27
PRICE
General price:
GenPrice ()
0.00

€

/ ticket
|
Per Person ()
1.00

€

/ ticket
28
PRICE
General price:
GenPrice ()
0.00

€

/ ticket
|
Per Person ()
1.00

€

/ ticket
29
PRICE
General price:
GenPrice ()
0.00

€

/ ticket
|
Per Person ()
1.00

€

/ ticket
30
PRICE
General price:
GenPrice ()
0.00

€

/ ticket
|
Per Person ()
1.00

€

/ ticket
1
PRICE
General price:
GenPrice ()
0.00

€

/ ticket
|
Per Person ()
1.00

€

/ ticket
2
PRICE
General price:
GenPrice ()
0.00

€

/ ticket
|
Per Person ()
1.00

€

/ ticket
3
PRICE
General price:
GenPrice ()
0.00

€

/ ticket
|
Per Person ()
1.00

€

/ ticket
4
PRICE
General price:
GenPrice ()
0.00

€

/ ticket
|
Per Person ()
1.00

€

/ ticket
5
PRICE
General price:
GenPrice ()
0.00

€

/ ticket
|
Per Person ()
1.00

€

/ ticket
29
PRICE
General price:
GenPrice ()
0.00

€

/ ticket
|
Per Person ()
1.00

€

/ ticket
30
PRICE
General price:
GenPrice ()
0.00

€

/ ticket
|
Per Person ()
1.00

€

/ ticket
1
PRICE
General price:
GenPrice ()
0.00

€

/ ticket
|
Per Person ()
1.00

€

/ ticket
2
PRICE
General price:
GenPrice ()
0.00

€

/ ticket
|
Per Person ()
1.00

€

/ ticket
3
PRICE
General price:
GenPrice ()
0.00

€

/ ticket
|
Per Person ()
1.00

€

/ ticket
4
PRICE
General price:
GenPrice ()
0.00

€

/ ticket
|
Per Person ()
1.00

€

/ ticket
5
PRICE
General price:
GenPrice ()
0.00

€

/ ticket
|
Per Person ()
1.00

€

/ ticket
6
PRICE
General price:
GenPrice ()
0.00

€

/ ticket
|
Per Person ()
1.00

€

/ ticket
7
PRICE
General price:
GenPrice ()
0.00

€

/ ticket
|
Per Person ()
1.00

€

/ ticket
8
PRICE
General price:
GenPrice ()
0.00

€

/ ticket
|
Per Person ()
1.00

€

/ ticket
9
PRICE
General price:
GenPrice ()
0.00

€

/ ticket
|
Per Person ()
1.00

€

/ ticket
10
PRICE
General price:
GenPrice ()
0.00

€

/ ticket
|
Per Person ()
1.00

€

/ ticket
11
PRICE
General price:
GenPrice ()
0.00

€

/ ticket
|
Per Person ()
1.00

€

/ ticket
12
PRICE
General price:
GenPrice ()
0.00

€

/ ticket
|
Per Person ()
1.00

€

/ ticket
13
PRICE
General price:
GenPrice ()
0.00

€

/ ticket
|
Per Person ()
1.00

€

/ ticket
14
PRICE
General price:
GenPrice ()
0.00

€

/ ticket
|
Per Person ()
1.00

€

/ ticket
15
PRICE
General price:
GenPrice ()
0.00

€

/ ticket
|
Per Person ()
1.00

€

/ ticket
16
PRICE
General price:
GenPrice ()
0.00

€

/ ticket
|
Per Person ()
1.00

€

/ ticket
17
PRICE
General price:
GenPrice ()
0.00

€

/ ticket
|
Per Person ()
1.00

€

/ ticket
18
PRICE
General price:
GenPrice ()
0.00

€

/ ticket
|
Per Person ()
1.00

€

/ ticket
19
PRICE
General price:
GenPrice ()
0.00

€

/ ticket
|
Per Person ()
1.00

€

/ ticket
20
PRICE
General price:
GenPrice ()
0.00

€

/ ticket
|
Per Person ()
1.00

€

/ ticket
21
PRICE
General price:
GenPrice ()
0.00

€

/ ticket
|
Per Person ()
1.00

€

/ ticket
22
PRICE
General price:
GenPrice ()
0.00

€

/ ticket
|
Per Person ()
1.00

€

/ ticket
23
PRICE
General price:
GenPrice ()
0.00

€

/ ticket
|
Per Person ()
1.00

€

/ ticket
24
PRICE
General price:
GenPrice ()
0.00

€

/ ticket
|
Per Person ()
1.00

€

/ ticket
25
PRICE
General price:
GenPrice ()
0.00

€

/ ticket
|
Per Person ()
1.00

€

/ ticket
26
PRICE
General price:
GenPrice ()
0.00

€

/ ticket
|
Per Person ()
1.00

€

/ ticket
27
PRICE
General price:
GenPrice ()
0.00

€

/ ticket
|
Per Person ()
1.00

€

/ ticket
28
PRICE
General price:
GenPrice ()
0.00

€

/ ticket
|
Per Person ()
1.00

€

/ ticket
29
PRICE
General price:
GenPrice ()
0.00

€

/ ticket
|
Per Person ()
1.00

€

/ ticket
30
PRICE
General price:
GenPrice ()
0.00

€

/ ticket
|
Per Person ()
1.00

€

/ ticket
31
PRICE
General price:
GenPrice ()
0.00

€

/ ticket
|
Per Person ()
1.00

€

/ ticket
1
PRICE
General price:
GenPrice ()
0.00

€

/ ticket
|
Per Person ()
1.00

€

/ ticket
2
PRICE
General price:
GenPrice ()
0.00

€

/ ticket
|
Per Person ()
1.00

€

/ ticket
27
PRICE
General price:
GenPrice ()
0.00

€

/ ticket
|
Per Person ()
1.00

€

/ ticket
28
PRICE
General price:
GenPrice ()
0.00

€

/ ticket
|
Per Person ()
1.00

€

/ ticket
29
PRICE
General price:
GenPrice ()
0.00

€

/ ticket
|
Per Person ()
1.00

€

/ ticket
30
PRICE
General price:
GenPrice ()
0.00

€

/ ticket
|
Per Person ()
1.00

€

/ ticket
31
PRICE
General price:
GenPrice ()
0.00

€

/ ticket
|
Per Person ()
1.00

€

/ ticket
1
PRICE
General price:
GenPrice ()
0.00

€

/ ticket
|
Per Person ()
1.00

€

/ ticket
2
PRICE
General price:
GenPrice ()
0.00

€

/ ticket
|
Per Person ()
1.00

€

/ ticket
3
PRICE
General price:
GenPrice ()
0.00

€

/ ticket
|
Per Person ()
1.00

€

/ ticket
4
PRICE
General price:
GenPrice ()
0.00

€

/ ticket
|
Per Person ()
1.00

€

/ ticket
5
PRICE
General price:
GenPrice ()
0.00

€

/ ticket
|
Per Person ()
1.00

€

/ ticket
6
PRICE
General price:
GenPrice ()
0.00

€

/ ticket
|
Per Person ()
1.00

€

/ ticket
7
PRICE
General price:
GenPrice ()
0.00

€

/ ticket
|
Per Person ()
1.00

€

/ ticket
8
PRICE
General price:
GenPrice ()
0.00

€

/ ticket
|
Per Person ()
1.00

€

/ ticket
9
PRICE
General price:
GenPrice ()
0.00

€

/ ticket
|
Per Person ()
1.00

€

/ ticket
10
PRICE
General price:
GenPrice ()
0.00

€

/ ticket
|
Per Person ()
1.00

€

/ ticket
11
PRICE
General price:
GenPrice ()
0.00

€

/ ticket
|
Per Person ()
1.00

€

/ ticket
12
PRICE
General price:
GenPrice ()
0.00

€

/ ticket
|
Per Person ()
1.00

€

/ ticket
13
PRICE
General price:
GenPrice ()
0.00

€

/ ticket
|
Per Person ()
1.00

€

/ ticket
14
PRICE
General price:
GenPrice ()
0.00

€

/ ticket
|
Per Person ()
1.00

€

/ ticket
15
PRICE
General price:
GenPrice ()
0.00

€

/ ticket
|
Per Person ()
1.00

€

/ ticket
16
PRICE
General price:
GenPrice ()
0.00

€

/ ticket
|
Per Person ()
1.00

€

/ ticket
17
PRICE
General price:
GenPrice ()
0.00

€

/ ticket
|
Per Person ()
1.00

€

/ ticket
18
PRICE
General price:
GenPrice ()
0.00

€

/ ticket
|
Per Person ()
1.00

€

/ ticket
19
PRICE
General price:
GenPrice ()
0.00

€

/ ticket
|
Per Person ()
1.00

€

/ ticket
20
PRICE
General price:
GenPrice ()
0.00

€

/ ticket
|
Per Person ()
1.00

€

/ ticket
21
PRICE
General price:
GenPrice ()
0.00

€

/ ticket
|
Per Person ()
1.00

€

/ ticket
22
PRICE
General price:
GenPrice ()
0.00

€

/ ticket
|
Per Person ()
1.00

€

/ ticket
23
PRICE
General price:
GenPrice ()
0.00

€

/ ticket
|
Per Person ()
1.00

€

/ ticket
24
PRICE
General price:
GenPrice ()
0.00

€

/ ticket
|
Per Person ()
1.00

€

/ ticket
25
PRICE
General price:
GenPrice ()
0.00

€

/ ticket
|
Per Person ()
1.00

€

/ ticket
26
PRICE
General price:
GenPrice ()
0.00

€

/ ticket
|
Per Person ()
1.00

€

/ ticket
27
PRICE
General price:
GenPrice ()
0.00

€

/ ticket
|
Per Person ()
1.00

€

/ ticket
28
PRICE
General price:
GenPrice ()
0.00

€

/ ticket
|
Per Person ()
1.00

€

/ ticket
29
PRICE
General price:
GenPrice ()
0.00

€

/ ticket
|
Per Person ()
1.00

€

/ ticket
30
PRICE
General price:
GenPrice ()
0.00

€

/ ticket
|
Per Person ()
1.00

€

/ ticket
1
PRICE
General price:
GenPrice ()
0.00

€

/ ticket
|
Per Person ()
1.00

€

/ ticket
2
PRICE
General price:
GenPrice ()
0.00

€

/ ticket
|
Per Person ()
1.00

€

/ ticket
3
PRICE
General price:
GenPrice ()
0.00

€

/ ticket
|
Per Person ()
1.00

€

/ ticket
4
PRICE
General price:
GenPrice ()
0.00

€

/ ticket
|
Per Person ()
1.00

€

/ ticket
5
PRICE
General price:
GenPrice ()
0.00

€

/ ticket
|
Per Person ()
1.00

€

/ ticket
6
PRICE
General price:
GenPrice ()
0.00

€

/ ticket
|
Per Person ()
1.00

€

/ ticket
7
PRICE
General price:
GenPrice ()
0.00

€

/ ticket
|
Per Person ()
1.00

€

/ ticket
8
PRICE
General price:
GenPrice ()
0.00

€

/ ticket
|
Per Person ()
1.00

€

/ ticket
9
PRICE
General price:
GenPrice ()
0.00

€

/ ticket
|
Per Person ()
1.00

€

/ ticket
10
PRICE
General price:
GenPrice ()
0.00

€

/ ticket
|
Per Person ()
1.00

€

/ ticket
11
PRICE
General price:
GenPrice ()
0.00

€

/ ticket
|
Per Person ()
1.00

€

/ ticket
12
PRICE
General price:
GenPrice ()
0.00

€

/ ticket
|
Per Person ()
1.00

€

/ ticket
13
PRICE
General price:
GenPrice ()
0.00

€

/ ticket
|
Per Person ()
1.00

€

/ ticket
14
PRICE
General price:
GenPrice ()
0.00

€

/ ticket
|
Per Person ()
1.00

€

/ ticket
15
PRICE
General price:
GenPrice ()
0.00

€

/ ticket
|
Per Person ()
1.00

€

/ ticket
16
PRICE
General price:
GenPrice ()
0.00

€

/ ticket
|
Per Person ()
1.00

€

/ ticket
17
PRICE
General price:
GenPrice ()
0.00

€

/ ticket
|
Per Person ()
1.00

€

/ ticket
18
PRICE
General price:
GenPrice ()
0.00

€

/ ticket
|
Per Person ()
1.00

€

/ ticket
19
PRICE
General price:
GenPrice ()
0.00

€

/ ticket
|
Per Person ()
1.00

€

/ ticket
20
PRICE
General price:
GenPrice ()
0.00

€

/ ticket
|
Per Person ()
1.00

€

/ ticket
21
PRICE
General price:
GenPrice ()
0.00

€

/ ticket
|
Per Person ()
1.00

€

/ ticket
22
PRICE
General price:
GenPrice ()
0.00

€

/ ticket
|
Per Person ()
1.00

€

/ ticket
23
PRICE
General price:
GenPrice ()
0.00

€

/ ticket
|
Per Person ()
1.00

€

/ ticket
24
PRICE
General price:
GenPrice ()
0.00

€

/ ticket
|
Per Person ()
1.00

€

/ ticket
25
PRICE
General price:
GenPrice ()
0.00

€

/ ticket
|
Per Person ()
1.00

€

/ ticket
26
PRICE
General price:
GenPrice ()
0.00

€

/ ticket
|
Per Person ()
1.00

€

/ ticket
27
PRICE
General price:
GenPrice ()
0.00

€

/ ticket
|
Per Person ()
1.00

€

/ ticket
28
PRICE
General price:
GenPrice ()
0.00

€

/ ticket
|
Per Person ()
1.00

€

/ ticket
29
PRICE
General price:
GenPrice ()
0.00

€

/ ticket
|
Per Person ()
1.00

€

/ ticket
30
PRICE
General price:
GenPrice ()
0.00

€

/ ticket
|
Per Person ()
1.00

€

/ ticket
31
PRICE
General price:
GenPrice ()
0.00

€

/ ticket
|
Per Person ()
1.00

€

/ ticket
1
PRICE
General price:
GenPrice ()
0.00

€

/ ticket
|
Per Person ()
1.00

€

/ ticket
2
PRICE
General price:
GenPrice ()
0.00

€

/ ticket
|
Per Person ()
1.00

€

/ ticket
3
PRICE
General price:
GenPrice ()
0.00

€

/ ticket
|
Per Person ()
1.00

€

/ ticket
4
PRICE
General price:
GenPrice ()
0.00

€

/ ticket
|
Per Person ()
1.00

€

/ ticket
29
PRICE
General price:
GenPrice ()
0.00

€

/ ticket
|
Per Person ()
1.00

€

/ ticket
30
PRICE
General price:
GenPrice ()
0.00

€

/ ticket
|
Per Person ()
1.00

€

/ ticket
31
PRICE
General price:
GenPrice ()
0.00

€

/ ticket
|
Per Person ()
1.00

€

/ ticket
1
PRICE
General price:
GenPrice ()
0.00

€

/ ticket
|
Per Person ()
1.00

€

/ ticket
2
PRICE
General price:
GenPrice ()
0.00

€

/ ticket
|
Per Person ()
1.00

€

/ ticket
3
PRICE
General price:
GenPrice ()
0.00

€

/ ticket
|
Per Person ()
1.00

€

/ ticket
4
PRICE
General price:
GenPrice ()
0.00

€

/ ticket
|
Per Person ()
1.00

€

/ ticket
5
PRICE
General price:
GenPrice ()
0.00

€

/ ticket
|
Per Person ()
1.00

€

/ ticket
6
PRICE
General price:
GenPrice ()
0.00

€

/ ticket
|
Per Person ()
1.00

€

/ ticket
7
PRICE
General price:
GenPrice ()
0.00

€

/ ticket
|
Per Person ()
1.00

€

/ ticket
8
PRICE
General price:
GenPrice ()
0.00

€

/ ticket
|
Per Person ()
1.00

€

/ ticket
9
PRICE
General price:
GenPrice ()
0.00

€

/ ticket
|
Per Person ()
1.00

€

/ ticket
10
PRICE
General price:
GenPrice ()
0.00

€

/ ticket
|
Per Person ()
1.00

€

/ ticket
11
PRICE
General price:
GenPrice ()
0.00

€

/ ticket
|
Per Person ()
1.00

€

/ ticket
12
PRICE
General price:
GenPrice ()
0.00

€

/ ticket
|
Per Person ()
1.00

€

/ ticket
13
PRICE
General price:
GenPrice ()
0.00

€

/ ticket
|
Per Person ()
1.00

€

/ ticket
14
PRICE
General price:
GenPrice ()
0.00

€

/ ticket
|
Per Person ()
1.00

€

/ ticket
15
PRICE
General price:
GenPrice ()
0.00

€

/ ticket
|
Per Person ()
1.00

€

/ ticket
16
PRICE
General price:
GenPrice ()
0.00

€

/ ticket
|
Per Person ()
1.00

€

/ ticket
17
PRICE
General price:
GenPrice ()
0.00

€

/ ticket
|
Per Person ()
1.00

€

/ ticket
18
PRICE
General price:
GenPrice ()
0.00

€

/ ticket
|
Per Person ()
1.00

€

/ ticket
19
PRICE
General price:
GenPrice ()
0.00

€

/ ticket
|
Per Person ()
1.00

€

/ ticket
20
PRICE
General price:
GenPrice ()
0.00

€

/ ticket
|
Per Person ()
1.00

€

/ ticket
21
PRICE
General price:
GenPrice ()
0.00

€

/ ticket
|
Per Person ()
1.00

€

/ ticket
22
PRICE
General price:
GenPrice ()
0.00

€

/ ticket
|
Per Person ()
1.00

€

/ ticket
23
PRICE
General price:
GenPrice ()
0.00

€

/ ticket
|
Per Person ()
1.00

€

/ ticket
24
PRICE
General price:
GenPrice ()
0.00

€

/ ticket
|
Per Person ()
1.00

€

/ ticket
25
PRICE
General price:
GenPrice ()
0.00

€

/ ticket
|
Per Person ()
1.00

€

/ ticket
26
PRICE
General price:
GenPrice ()
0.00

€

/ ticket
|
Per Person ()
1.00

€

/ ticket
27
PRICE
General price:
GenPrice ()
0.00

€

/ ticket
|
Per Person ()
1.00

€

/ ticket
28
PRICE
General price:
GenPrice ()
0.00

€

/ ticket
|
Per Person ()
1.00

€

/ ticket
29
PRICE
General price:
GenPrice ()
0.00

€

/ ticket
|
Per Person ()
1.00

€

/ ticket
30
PRICE
General price:
GenPrice ()
0.00

€

/ ticket
|
Per Person ()
1.00

€

/ ticket
31
PRICE
General price:
GenPrice ()
0.00

€

/ ticket
|
Per Person ()
1.00

€

/ ticket
1
PRICE
General price:
GenPrice ()
0.00

€

/ ticket
|
Per Person ()
1.00

€

/ ticket
26
PRICE
General price:
GenPrice ()
0.00

€

/ ticket
|
Per Person ()
1.00

€

/ ticket
27
PRICE
General price:
GenPrice ()
0.00

€

/ ticket
|
Per Person ()
1.00

€

/ ticket
28
PRICE
General price:
GenPrice ()
0.00

€

/ ticket
|
Per Person ()
1.00

€

/ ticket
29
PRICE
General price:
GenPrice ()
0.00

€

/ ticket
|
Per Person ()
1.00

€

/ ticket
30
PRICE
General price:
GenPrice ()
0.00

€

/ ticket
|
Per Person ()
1.00

€

/ ticket
31
PRICE
General price:
GenPrice ()
0.00

€

/ ticket
|
Per Person ()
1.00

€

/ ticket
1
PRICE
General price:
GenPrice ()
0.00

€

/ ticket
|
Per Person ()
1.00

€

/ ticket
2
PRICE
General price:
GenPrice ()
0.00

€

/ ticket
|
Per Person ()
1.00

€

/ ticket
3
PRICE
General price:
GenPrice ()
0.00

€

/ ticket
|
Per Person ()
1.00

€

/ ticket
4
PRICE
General price:
GenPrice ()
0.00

€

/ ticket
|
Per Person ()
1.00

€

/ ticket
5
PRICE
General price:
GenPrice ()
0.00

€

/ ticket
|
Per Person ()
1.00

€

/ ticket
6
PRICE
General price:
GenPrice ()
0.00

€

/ ticket
|
Per Person ()
1.00

€

/ ticket
7
PRICE
General price:
GenPrice ()
0.00

€

/ ticket
|
Per Person ()
1.00

€

/ ticket
8
PRICE
General price:
GenPrice ()
0.00

€

/ ticket
|
Per Person ()
1.00

€

/ ticket
9
PRICE
General price:
GenPrice ()
0.00

€

/ ticket
|
Per Person ()
1.00

€

/ ticket
10
PRICE
General price:
GenPrice ()
0.00

€

/ ticket
|
Per Person ()
1.00

€

/ ticket
11
PRICE
General price:
GenPrice ()
0.00

€

/ ticket
|
Per Person ()
1.00

€

/ ticket
12
PRICE
General price:
GenPrice ()
0.00

€

/ ticket
|
Per Person ()
1.00

€

/ ticket
13
PRICE
General price:
GenPrice ()
0.00

€

/ ticket
|
Per Person ()
1.00

€

/ ticket
14
PRICE
General price:
GenPrice ()
0.00

€

/ ticket
|
Per Person ()
1.00

€

/ ticket
15
PRICE
General price:
GenPrice ()
0.00

€

/ ticket
|
Per Person ()
1.00

€

/ ticket
16
PRICE
General price:
GenPrice ()
0.00

€

/ ticket
|
Per Person ()
1.00

€

/ ticket
17
PRICE
General price:
GenPrice ()
0.00

€

/ ticket
|
Per Person ()
1.00

€

/ ticket
18
PRICE
General price:
GenPrice ()
0.00

€

/ ticket
|
Per Person ()
1.00

€

/ ticket
19
PRICE
General price:
GenPrice ()
0.00

€

/ ticket
|
Per Person ()
1.00

€

/ ticket
20
PRICE
General price:
GenPrice ()
0.00

€

/ ticket
|
Per Person ()
1.00

€

/ ticket
21
PRICE
General price:
GenPrice ()
0.00

€

/ ticket
|
Per Person ()
1.00

€

/ ticket
22
PRICE
General price:
GenPrice ()
0.00

€

/ ticket
|
Per Person ()
1.00

€

/ ticket
23
PRICE
General price:
GenPrice ()
0.00

€

/ ticket
|
Per Person ()
1.00

€

/ ticket
24
PRICE
General price:
GenPrice ()
0.00

€

/ ticket
|
Per Person ()
1.00

€

/ ticket
25
PRICE
General price:
GenPrice ()
0.00

€

/ ticket
|
Per Person ()
1.00

€

/ ticket
26
PRICE
General price:
GenPrice ()
0.00

€

/ ticket
|
Per Person ()
1.00

€

/ ticket
27
PRICE
General price:
GenPrice ()
0.00

€

/ ticket
|
Per Person ()
1.00

€

/ ticket
28
PRICE
General price:
GenPrice ()
0.00

€

/ ticket
|
Per Person ()
1.00

€

/ ticket
29
PRICE
General price:
GenPrice ()
0.00

€

/ ticket
|
Per Person ()
1.00

€

/ ticket
30
PRICE
General price:
GenPrice ()
0.00

€

/ ticket
|
Per Person ()
1.00

€

/ ticket
1
PRICE
General price:
GenPrice ()
0.00

€

/ ticket
|
Per Person ()
1.00

€

/ ticket
2
PRICE
General price:
GenPrice ()
0.00

€

/ ticket
|
Per Person ()
1.00

€

/ ticket
3
PRICE
General price:
GenPrice ()
0.00

€

/ ticket
|
Per Person ()
1.00

€

/ ticket
4
PRICE
General price:
GenPrice ()
0.00

€

/ ticket
|
Per Person ()
1.00

€

/ ticket
5
PRICE
General price:
GenPrice ()
0.00

€

/ ticket
|
Per Person ()
1.00

€

/ ticket
6
PRICE
General price:
GenPrice ()
0.00

€

/ ticket
|
Per Person ()
1.00

€

/ ticket
30
PRICE
General price:
GenPrice ()
0.00

€

/ ticket
|
Per Person ()
1.00

€

/ ticket
1
PRICE
General price:
GenPrice ()
0.00

€

/ ticket
|
Per Person ()
1.00

€

/ ticket
2
PRICE
General price:
GenPrice ()
0.00

€

/ ticket
|
Per Person ()
1.00

€

/ ticket
3
PRICE
General price:
GenPrice ()
0.00

€

/ ticket
|
Per Person ()
1.00

€

/ ticket
4
PRICE
General price:
GenPrice ()
0.00

€

/ ticket
|
Per Person ()
1.00

€

/ ticket
5
PRICE
General price:
GenPrice ()
0.00

€

/ ticket
|
Per Person ()
1.00

€

/ ticket
6
PRICE
General price:
GenPrice ()
0.00

€

/ ticket
|
Per Person ()
1.00

€

/ ticket
7
PRICE
General price:
GenPrice ()
0.00

€

/ ticket
|
Per Person ()
1.00

€

/ ticket
8
PRICE
General price:
GenPrice ()
0.00

€

/ ticket
|
Per Person ()
1.00

€

/ ticket
9
PRICE
General price:
GenPrice ()
0.00

€

/ ticket
|
Per Person ()
1.00

€

/ ticket
10
PRICE
General price:
GenPrice ()
0.00

€

/ ticket
|
Per Person ()
1.00

€

/ ticket
11
PRICE
General price:
GenPrice ()
0.00

€

/ ticket
|
Per Person ()
1.00

€

/ ticket
12
PRICE
General price:
GenPrice ()
0.00

€

/ ticket
|
Per Person ()
1.00

€

/ ticket
13
PRICE
General price:
GenPrice ()
0.00

€

/ ticket
|
Per Person ()
1.00

€

/ ticket
14
PRICE
General price:
GenPrice ()
0.00

€

/ ticket
|
Per Person ()
1.00

€

/ ticket
15
PRICE
General price:
GenPrice ()
0.00

€

/ ticket
|
Per Person ()
1.00

€

/ ticket
16
PRICE
General price:
GenPrice ()
0.00

€

/ ticket
|
Per Person ()
1.00

€

/ ticket
17
PRICE
General price:
GenPrice ()
0.00

€

/ ticket
|
Per Person ()
1.00

€

/ ticket
18
PRICE
General price:
GenPrice ()
0.00

€

/ ticket
|
Per Person ()
1.00

€

/ ticket
19
PRICE
General price:
GenPrice ()
0.00

€

/ ticket
|
Per Person ()
1.00

€

/ ticket
20
PRICE
General price:
GenPrice ()
0.00

€

/ ticket
|
Per Person ()
1.00

€

/ ticket
21
PRICE
General price:
GenPrice ()
0.00

€

/ ticket
|
Per Person ()
1.00

€

/ ticket
22
PRICE
General price:
GenPrice ()
0.00

€

/ ticket
|
Per Person ()
1.00

€

/ ticket
23
PRICE
General price:
GenPrice ()
0.00

€

/ ticket
|
Per Person ()
1.00

€

/ ticket
24
PRICE
General price:
GenPrice ()
0.00

€

/ ticket
|
Per Person ()
1.00

€

/ ticket
25
PRICE
General price:
GenPrice ()
0.00

€

/ ticket
|
Per Person ()
1.00

€

/ ticket
26
PRICE
General price:
GenPrice ()
0.00

€

/ ticket
|
Per Person ()
1.00

€

/ ticket
27
PRICE
General price:
GenPrice ()
0.00

€

/ ticket
|
Per Person ()
1.00

€

/ ticket
28
PRICE
General price:
GenPrice ()
0.00

€

/ ticket
|
Per Person ()
1.00

€

/ ticket
29
PRICE
General price:
GenPrice ()
0.00

€

/ ticket
|
Per Person ()
1.00

€

/ ticket
30
PRICE
General price:
GenPrice ()
0.00

€

/ ticket
|
Per Person ()
1.00

€

/ ticket
31
PRICE
General price:
GenPrice ()
0.00

€

/ ticket
|
Per Person ()
1.00

€

/ ticket
1
PRICE
General price:
GenPrice ()
0.00

€

/ ticket
|
Per Person ()
1.00

€

/ ticket
2
PRICE
General price:
GenPrice ()
0.00

€

/ ticket
|
Per Person ()
1.00

€

/ ticket
3
PRICE
General price:
GenPrice ()
0.00

€

/ ticket
|
Per Person ()
1.00

€

/ ticket
28
PRICE
General price:
GenPrice ()
0.00

€

/ ticket
|
Per Person ()
1.00

€

/ ticket
29
PRICE
General price:
GenPrice ()
0.00

€

/ ticket
|
Per Person ()
1.00

€

/ ticket
30
PRICE
General price:
GenPrice ()
0.00

€

/ ticket
|
Per Person ()
1.00

€

/ ticket
31
PRICE
General price:
GenPrice ()
0.00

€

/ ticket
|
Per Person ()
1.00

€

/ ticket
1
PRICE
General price:
GenPrice ()
0.00

€

/ ticket
|
Per Person ()
1.00

€

/ ticket
2
PRICE
General price:
GenPrice ()
0.00

€

/ ticket
|
Per Person ()
1.00

€

/ ticket
3
PRICE
General price:
GenPrice ()
0.00

€

/ ticket
|
Per Person ()
1.00

€

/ ticket
4
PRICE
General price:
GenPrice ()
0.00

€

/ ticket
|
Per Person ()
1.00

€

/ ticket
5
PRICE
General price:
GenPrice ()
0.00

€

/ ticket
|
Per Person ()
1.00

€

/ ticket
6
PRICE
General price:
GenPrice ()
0.00

€

/ ticket
|
Per Person ()
1.00

€

/ ticket
7
PRICE
General price:
GenPrice ()
0.00

€

/ ticket
|
Per Person ()
1.00

€

/ ticket
8
PRICE
General price:
GenPrice ()
0.00

€

/ ticket
|
Per Person ()
1.00

€

/ ticket
9
PRICE
General price:
GenPrice ()
0.00

€

/ ticket
|
Per Person ()
1.00

€

/ ticket
10
PRICE
General price:
GenPrice ()
0.00

€

/ ticket
|
Per Person ()
1.00

€

/ ticket
11
PRICE
General price:
GenPrice ()
0.00

€

/ ticket
|
Per Person ()
1.00

€

/ ticket
12
PRICE
General price:
GenPrice ()
0.00

€

/ ticket
|
Per Person ()
1.00

€

/ ticket
13
PRICE
General price:
GenPrice ()
0.00

€

/ ticket
|
Per Person ()
1.00

€

/ ticket
14
PRICE
General price:
GenPrice ()
0.00

€

/ ticket
|
Per Person ()
1.00

€

/ ticket
15
PRICE
General price:
GenPrice ()
0.00

€

/ ticket
|
Per Person ()
1.00

€

/ ticket
16
PRICE
General price:
GenPrice ()
0.00

€

/ ticket
|
Per Person ()
1.00

€

/ ticket
17
PRICE
General price:
GenPrice ()
0.00

€

/ ticket
|
Per Person ()
1.00

€

/ ticket
18
PRICE
General price:
GenPrice ()
0.00

€

/ ticket
|
Per Person ()
1.00

€

/ ticket
19
PRICE
General price:
GenPrice ()
0.00

€

/ ticket
|
Per Person ()
1.00

€

/ ticket
20
PRICE
General price:
GenPrice ()
0.00

€

/ ticket
|
Per Person ()
1.00

€

/ ticket
21
PRICE
General price:
GenPrice ()
0.00

€

/ ticket
|
Per Person ()
1.00

€

/ ticket
22
PRICE
General price:
GenPrice ()
0.00

€

/ ticket
|
Per Person ()
1.00

€

/ ticket
23
PRICE
General price:
GenPrice ()
0.00

€

/ ticket
|
Per Person ()
1.00

€

/ ticket
24
PRICE
General price:
GenPrice ()
0.00

€

/ ticket
|
Per Person ()
1.00

€

/ ticket
25
PRICE
General price:
GenPrice ()
0.00

€

/ ticket
|
Per Person ()
1.00

€

/ ticket
26
PRICE
General price:
GenPrice ()
0.00

€

/ ticket
|
Per Person ()
1.00

€

/ ticket
27
PRICE
General price:
GenPrice ()
0.00

€

/ ticket
|
Per Person ()
1.00

€

/ ticket
28
PRICE
General price:
GenPrice ()
0.00

€

/ ticket
|
Per Person ()
1.00

€

/ ticket
29
PRICE
General price:
GenPrice ()
0.00

€

/ ticket
|
Per Person ()
1.00

€

/ ticket
30
PRICE
General price:
GenPrice ()
0.00

€

/ ticket
|
Per Person ()
1.00

€

/ ticket
1
PRICE
General price:
GenPrice ()
0.00

€

/ ticket
|
Per Person ()
1.00

€

/ ticket