Hidden Gems of the Saronic Gulf and Eastern Peloponnese 9-day private catamaran charter
A private charter for up to 6 people on a fully-crewed catamaran, on a journey through the classical antiquity of the Saronic Gulf. It's a chance to get close-up and personal to the real Greece with time dedicated to exploring the culture and beauty of Athens.
Calling at: Athens –Epidaurus – Hydra – Spetses – Ermioni – Poros – Aegina - Athens
Your vessel: The winds and waters of the Saronic Gulf were made for catamarans – stable twin-hulled boats with much more deck and saloon space than mono-hull yachts. As you would expect cabins are more spacious and well-appointed. Life in general is lived al fresco, with breakfast and a light lunch included in the price as we find that guests generally prefer to find a waterfront taverna for dinner – if spoiled for choice ask the captain or the stewardess. There are three guest cabins which between them sleep up to 6 people. We are happy to run the private charter for as few as two people – it's ideal for a family, a multi-generational holiday or even a honeymoon!
Highlights:
Overnight in Athens and guided Athens Tours
The theatre at Epidaurus
Artists' colony on Hydra
The car-free delights of old Spetses
Beautiful beaches at Ermioni
The charm and romance of Poros
Sophisticated Aegina
Your holiday price Included/Excluded
1 night in a 5-star hotel in Athens and guided Athens city tour

Luxury Transfers from and between airport, hotel, catamaran

Yacht charter for 7 nights

Skipper and hostess

Breakfast & light lunch

Port charges

All fuel as required

Post-cruise cleaning
Optional excursions

Beverages

Optional full-board supplement of €20 per day

Crew Tips – 10-15% industry standard
Itinerary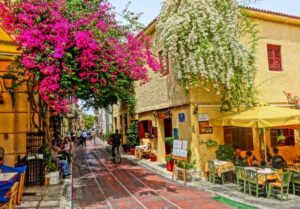 Athens sightseeing tour and overnight – sample the tavernas in the Plaka district..
Day 3: Athens to Epidaurus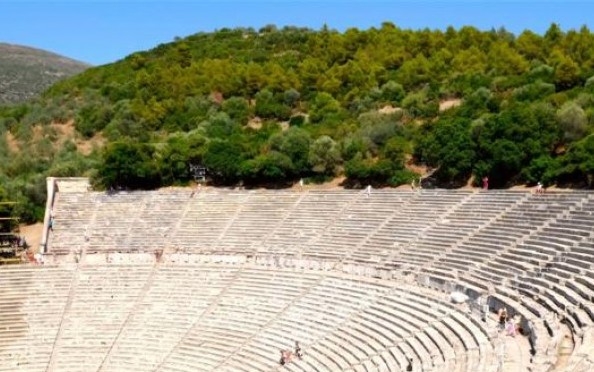 Athens to Epidaurus, the ancient city famous for both its fabulous Greek theatre and as a sanctuary of healing.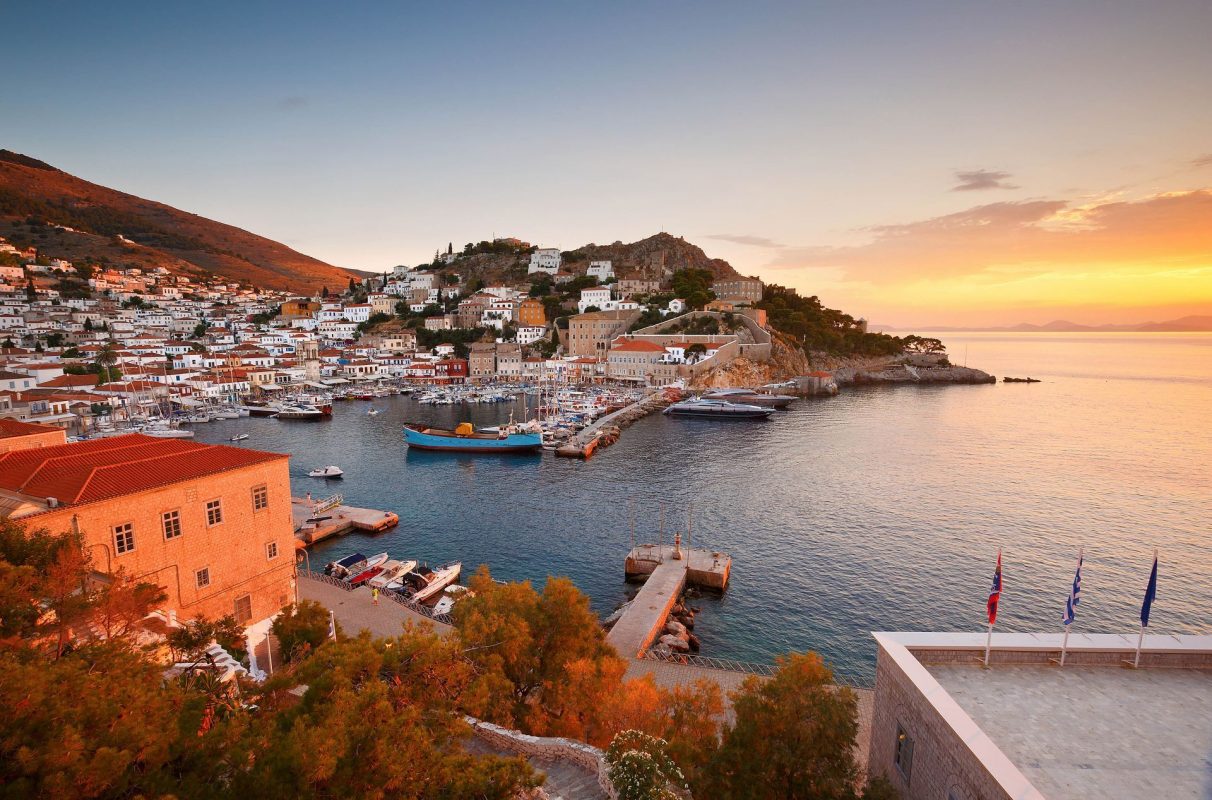 A cruise of 32 nautical miles to cosmopolitan Hydra, a flourishing artists' colony and cultural centre where everybody gets around by donkey as no vehicles are allowed.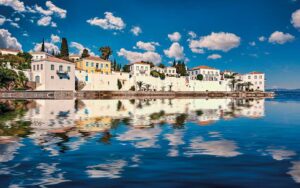 A short hop to Spetses, another island where no cars are allowed. Take a horse drawn carriage tour of the old Venetian mansions and then dine in the old harbour area.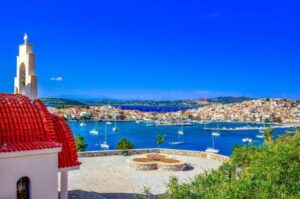 An even shorter hop to Ermioni, on the mainland of the Peloponnese. Historic architecture here and some wonderful beaches for a day spent on the sands.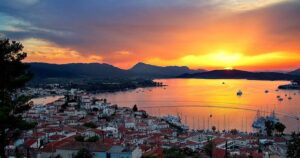 Today we visit Poros, a sophisticated resort much loved by wealthy Athenians. A great place for upscale souvenir shopping.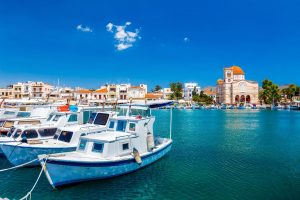 Our penultimate port of call is Aegina – the island of the pistachio trees It has a classy cosmopolitan vibe, but the old ruins and temple are well worth a visit.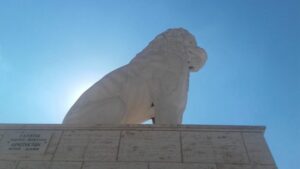 Cruise back to Athens for onward transport to the airport or your Athens hotel if you have planned to take any of our land excursions.
2
Gems of the Saronic Gulf and Eastern Peloponnese
General price:
2800.00

€

/ ticket
3
Gems of the Saronic Gulf and Eastern Peloponnese
General price:
2800.00

€

/ ticket
4
Gems of the Saronic Gulf and Eastern Peloponnese
General price:
2800.00

€

/ ticket
5
Gems of the Saronic Gulf and Eastern Peloponnese
General price:
2800.00

€

/ ticket
6
Gems of the Saronic Gulf and Eastern Peloponnese
General price:
2800.00

€

/ ticket
7
Gems of the Saronic Gulf and Eastern Peloponnese
General price:
2800.00

€

/ ticket
8
Gems of the Saronic Gulf and Eastern Peloponnese
General price:
2800.00

€

/ ticket
9
Gems of the Saronic Gulf and Eastern Peloponnese
General price:
2800.00

€

/ ticket
10
Gems of the Saronic Gulf and Eastern Peloponnese
General price:
2800.00

€

/ ticket
11
Gems of the Saronic Gulf and Eastern Peloponnese
General price:
2800.00

€

/ ticket
12
Gems of the Saronic Gulf and Eastern Peloponnese
General price:
2800.00

€

/ ticket
13
Gems of the Saronic Gulf and Eastern Peloponnese
General price:
2800.00

€

/ ticket
14
Gems of the Saronic Gulf and Eastern Peloponnese
General price:
2800.00

€

/ ticket
15
Gems of the Saronic Gulf and Eastern Peloponnese
General price:
2800.00

€

/ ticket
16
Gems of the Saronic Gulf and Eastern Peloponnese
General price:
2800.00

€

/ ticket
17
Gems of the Saronic Gulf and Eastern Peloponnese
General price:
2800.00

€

/ ticket
18
Gems of the Saronic Gulf and Eastern Peloponnese
General price:
2800.00

€

/ ticket
19
Gems of the Saronic Gulf and Eastern Peloponnese
General price:
2800.00

€

/ ticket
20
Gems of the Saronic Gulf and Eastern Peloponnese
General price:
2800.00

€

/ ticket
21
Gems of the Saronic Gulf and Eastern Peloponnese
General price:
2800.00

€

/ ticket
22
Gems of the Saronic Gulf and Eastern Peloponnese
General price:
2800.00

€

/ ticket
23
Gems of the Saronic Gulf and Eastern Peloponnese
General price:
2800.00

€

/ ticket
24
Gems of the Saronic Gulf and Eastern Peloponnese
General price:
2800.00

€

/ ticket
25
Gems of the Saronic Gulf and Eastern Peloponnese
General price:
2800.00

€

/ ticket
26
Gems of the Saronic Gulf and Eastern Peloponnese
General price:
2800.00

€

/ ticket
27
Gems of the Saronic Gulf and Eastern Peloponnese
General price:
2800.00

€

/ ticket
28
Gems of the Saronic Gulf and Eastern Peloponnese
General price:
2800.00

€

/ ticket
29
Gems of the Saronic Gulf and Eastern Peloponnese
General price:
2800.00

€

/ ticket
30
Gems of the Saronic Gulf and Eastern Peloponnese
General price:
2800.00

€

/ ticket
31
Gems of the Saronic Gulf and Eastern Peloponnese
General price:
2800.00

€

/ ticket
1
Gems of the Saronic Gulf and Eastern Peloponnese
General price:
2800.00

€

/ ticket
2
Gems of the Saronic Gulf and Eastern Peloponnese
General price:
2800.00

€

/ ticket
3
Gems of the Saronic Gulf and Eastern Peloponnese
General price:
2800.00

€

/ ticket
4
Gems of the Saronic Gulf and Eastern Peloponnese
General price:
2800.00

€

/ ticket
5
Gems of the Saronic Gulf and Eastern Peloponnese
General price:
2800.00

€

/ ticket
6
Gems of the Saronic Gulf and Eastern Peloponnese
General price:
2800.00

€

/ ticket
7
Gems of the Saronic Gulf and Eastern Peloponnese
General price:
2800.00

€

/ ticket
8
Gems of the Saronic Gulf and Eastern Peloponnese
General price:
2800.00

€

/ ticket
9
Gems of the Saronic Gulf and Eastern Peloponnese
General price:
2800.00

€

/ ticket
10
Gems of the Saronic Gulf and Eastern Peloponnese
General price:
2800.00

€

/ ticket
11
Gems of the Saronic Gulf and Eastern Peloponnese
General price:
2800.00

€

/ ticket
12
Gems of the Saronic Gulf and Eastern Peloponnese
General price:
2800.00

€

/ ticket
13
Gems of the Saronic Gulf and Eastern Peloponnese
General price:
2800.00

€

/ ticket
14
Gems of the Saronic Gulf and Eastern Peloponnese
General price:
2800.00

€

/ ticket
15
Gems of the Saronic Gulf and Eastern Peloponnese
General price:
2800.00

€

/ ticket
16
Gems of the Saronic Gulf and Eastern Peloponnese
General price:
2800.00

€

/ ticket
17
Gems of the Saronic Gulf and Eastern Peloponnese
General price:
2800.00

€

/ ticket
18
Gems of the Saronic Gulf and Eastern Peloponnese
General price:
2800.00

€

/ ticket
19
Gems of the Saronic Gulf and Eastern Peloponnese
General price:
2800.00

€

/ ticket
20
Gems of the Saronic Gulf and Eastern Peloponnese
General price:
2800.00

€

/ ticket
21
Gems of the Saronic Gulf and Eastern Peloponnese
General price:
2800.00

€

/ ticket
22
Gems of the Saronic Gulf and Eastern Peloponnese
General price:
2800.00

€

/ ticket
23
Gems of the Saronic Gulf and Eastern Peloponnese
General price:
2800.00

€

/ ticket
24
Gems of the Saronic Gulf and Eastern Peloponnese
General price:
2800.00

€

/ ticket
25
Gems of the Saronic Gulf and Eastern Peloponnese
General price:
2800.00

€

/ ticket
26
Gems of the Saronic Gulf and Eastern Peloponnese
General price:
2800.00

€

/ ticket
27
Gems of the Saronic Gulf and Eastern Peloponnese
General price:
2800.00

€

/ ticket
28
Gems of the Saronic Gulf and Eastern Peloponnese
General price:
2800.00

€

/ ticket
29
Gems of the Saronic Gulf and Eastern Peloponnese
General price:
2800.00

€

/ ticket
30
Gems of the Saronic Gulf and Eastern Peloponnese
General price:
2800.00

€

/ ticket
31
Gems of the Saronic Gulf and Eastern Peloponnese
General price:
2800.00

€

/ ticket
1
Gems of the Saronic Gulf and Eastern Peloponnese
General price:
2800.00

€

/ ticket
2
Gems of the Saronic Gulf and Eastern Peloponnese
General price:
2800.00

€

/ ticket
3
Gems of the Saronic Gulf and Eastern Peloponnese
General price:
2800.00

€

/ ticket
4
Gems of the Saronic Gulf and Eastern Peloponnese
General price:
2800.00

€

/ ticket
29
Gems of the Saronic Gulf and Eastern Peloponnese
General price:
2800.00

€

/ ticket
30
Gems of the Saronic Gulf and Eastern Peloponnese
General price:
2800.00

€

/ ticket
31
Gems of the Saronic Gulf and Eastern Peloponnese
General price:
2800.00

€

/ ticket
1
Gems of the Saronic Gulf and Eastern Peloponnese
General price:
2800.00

€

/ ticket
2
Gems of the Saronic Gulf and Eastern Peloponnese
General price:
2800.00

€

/ ticket
3
Gems of the Saronic Gulf and Eastern Peloponnese
General price:
2800.00

€

/ ticket
4
Gems of the Saronic Gulf and Eastern Peloponnese
General price:
2800.00

€

/ ticket
5
Gems of the Saronic Gulf and Eastern Peloponnese
General price:
2800.00

€

/ ticket
6
Gems of the Saronic Gulf and Eastern Peloponnese
General price:
2800.00

€

/ ticket
7
Gems of the Saronic Gulf and Eastern Peloponnese
General price:
2800.00

€

/ ticket
8
Gems of the Saronic Gulf and Eastern Peloponnese
General price:
2800.00

€

/ ticket
9
Gems of the Saronic Gulf and Eastern Peloponnese
General price:
2800.00

€

/ ticket
10
Gems of the Saronic Gulf and Eastern Peloponnese
General price:
2800.00

€

/ ticket
11
Gems of the Saronic Gulf and Eastern Peloponnese
General price:
2800.00

€

/ ticket
12
Gems of the Saronic Gulf and Eastern Peloponnese
General price:
2800.00

€

/ ticket
13
Gems of the Saronic Gulf and Eastern Peloponnese
General price:
2800.00

€

/ ticket
14
Gems of the Saronic Gulf and Eastern Peloponnese
General price:
2800.00

€

/ ticket
15
Gems of the Saronic Gulf and Eastern Peloponnese
General price:
2800.00

€

/ ticket
16
Gems of the Saronic Gulf and Eastern Peloponnese
General price:
2800.00

€

/ ticket
17
Gems of the Saronic Gulf and Eastern Peloponnese
General price:
2800.00

€

/ ticket
18
Gems of the Saronic Gulf and Eastern Peloponnese
General price:
2800.00

€

/ ticket
19
Gems of the Saronic Gulf and Eastern Peloponnese
General price:
2800.00

€

/ ticket
20
Gems of the Saronic Gulf and Eastern Peloponnese
General price:
2800.00

€

/ ticket
21
Gems of the Saronic Gulf and Eastern Peloponnese
General price:
2800.00

€

/ ticket
22
Gems of the Saronic Gulf and Eastern Peloponnese
General price:
2800.00

€

/ ticket
23
Gems of the Saronic Gulf and Eastern Peloponnese
General price:
2800.00

€

/ ticket
24
Gems of the Saronic Gulf and Eastern Peloponnese
General price:
2800.00

€

/ ticket
25
Gems of the Saronic Gulf and Eastern Peloponnese
General price:
2800.00

€

/ ticket
26
Gems of the Saronic Gulf and Eastern Peloponnese
General price:
2800.00

€

/ ticket
27
Gems of the Saronic Gulf and Eastern Peloponnese
General price:
2800.00

€

/ ticket
28
Gems of the Saronic Gulf and Eastern Peloponnese
General price:
2800.00

€

/ ticket
29
Gems of the Saronic Gulf and Eastern Peloponnese
General price:
2800.00

€

/ ticket
1
Gems of the Saronic Gulf and Eastern Peloponnese
General price:
2800.00

€

/ ticket
2
Gems of the Saronic Gulf and Eastern Peloponnese
General price:
2800.00

€

/ ticket
3
Gems of the Saronic Gulf and Eastern Peloponnese
General price:
2800.00

€

/ ticket
26
Gems of the Saronic Gulf and Eastern Peloponnese
General price:
2800.00

€

/ ticket
27
Gems of the Saronic Gulf and Eastern Peloponnese
General price:
2800.00

€

/ ticket
28
Gems of the Saronic Gulf and Eastern Peloponnese
General price:
2800.00

€

/ ticket
29
Gems of the Saronic Gulf and Eastern Peloponnese
General price:
2800.00

€

/ ticket
1
Gems of the Saronic Gulf and Eastern Peloponnese
General price:
2800.00

€

/ ticket
2
Gems of the Saronic Gulf and Eastern Peloponnese
General price:
2800.00

€

/ ticket
3
Gems of the Saronic Gulf and Eastern Peloponnese
General price:
2800.00

€

/ ticket
4
Gems of the Saronic Gulf and Eastern Peloponnese
General price:
2800.00

€

/ ticket
5
Gems of the Saronic Gulf and Eastern Peloponnese
General price:
2800.00

€

/ ticket
6
Gems of the Saronic Gulf and Eastern Peloponnese
General price:
2800.00

€

/ ticket
7
Gems of the Saronic Gulf and Eastern Peloponnese
General price:
2800.00

€

/ ticket
8
Gems of the Saronic Gulf and Eastern Peloponnese
General price:
2800.00

€

/ ticket
9
Gems of the Saronic Gulf and Eastern Peloponnese
General price:
2800.00

€

/ ticket
10
Gems of the Saronic Gulf and Eastern Peloponnese
General price:
2800.00

€

/ ticket
11
Gems of the Saronic Gulf and Eastern Peloponnese
General price:
2800.00

€

/ ticket
12
Gems of the Saronic Gulf and Eastern Peloponnese
General price:
2800.00

€

/ ticket
13
Gems of the Saronic Gulf and Eastern Peloponnese
General price:
2800.00

€

/ ticket
14
Gems of the Saronic Gulf and Eastern Peloponnese
General price:
2800.00

€

/ ticket
15
Gems of the Saronic Gulf and Eastern Peloponnese
General price:
2800.00

€

/ ticket
16
Gems of the Saronic Gulf and Eastern Peloponnese
General price:
2800.00

€

/ ticket
17
Gems of the Saronic Gulf and Eastern Peloponnese
General price:
2800.00

€

/ ticket
18
Gems of the Saronic Gulf and Eastern Peloponnese
General price:
2800.00

€

/ ticket
19
Gems of the Saronic Gulf and Eastern Peloponnese
General price:
2800.00

€

/ ticket
20
Gems of the Saronic Gulf and Eastern Peloponnese
General price:
2800.00

€

/ ticket
21
Gems of the Saronic Gulf and Eastern Peloponnese
General price:
2800.00

€

/ ticket
22
Gems of the Saronic Gulf and Eastern Peloponnese
General price:
2800.00

€

/ ticket
23
Gems of the Saronic Gulf and Eastern Peloponnese
General price:
2800.00

€

/ ticket
24
Gems of the Saronic Gulf and Eastern Peloponnese
General price:
2800.00

€

/ ticket
25
Gems of the Saronic Gulf and Eastern Peloponnese
General price:
2800.00

€

/ ticket
26
Gems of the Saronic Gulf and Eastern Peloponnese
General price:
2800.00

€

/ ticket
27
Gems of the Saronic Gulf and Eastern Peloponnese
General price:
2800.00

€

/ ticket
28
Gems of the Saronic Gulf and Eastern Peloponnese
General price:
2800.00

€

/ ticket
29
Gems of the Saronic Gulf and Eastern Peloponnese
General price:
2800.00

€

/ ticket
30
Gems of the Saronic Gulf and Eastern Peloponnese
General price:
2800.00

€

/ ticket
31
Gems of the Saronic Gulf and Eastern Peloponnese
General price:
2800.00

€

/ ticket
1
Gems of the Saronic Gulf and Eastern Peloponnese
General price:
2800.00

€

/ ticket
2
Gems of the Saronic Gulf and Eastern Peloponnese
General price:
2800.00

€

/ ticket
3
Gems of the Saronic Gulf and Eastern Peloponnese
General price:
2800.00

€

/ ticket
4
Gems of the Saronic Gulf and Eastern Peloponnese
General price:
2800.00

€

/ ticket
5
Gems of the Saronic Gulf and Eastern Peloponnese
General price:
2800.00

€

/ ticket
6
Gems of the Saronic Gulf and Eastern Peloponnese
General price:
2800.00

€

/ ticket
7
Gems of the Saronic Gulf and Eastern Peloponnese
General price:
2800.00

€

/ ticket
8
Gems of the Saronic Gulf and Eastern Peloponnese
General price:
2800.00

€

/ ticket
9
Gems of the Saronic Gulf and Eastern Peloponnese
General price:
2800.00

€

/ ticket
10
Gems of the Saronic Gulf and Eastern Peloponnese
General price:
2800.00

€

/ ticket
11
Gems of the Saronic Gulf and Eastern Peloponnese
General price:
2800.00

€

/ ticket
12
Gems of the Saronic Gulf and Eastern Peloponnese
General price:
2800.00

€

/ ticket
13
Gems of the Saronic Gulf and Eastern Peloponnese
General price:
2800.00

€

/ ticket
14
Gems of the Saronic Gulf and Eastern Peloponnese
General price:
2800.00

€

/ ticket
15
Gems of the Saronic Gulf and Eastern Peloponnese
General price:
2800.00

€

/ ticket
16
Gems of the Saronic Gulf and Eastern Peloponnese
General price:
2800.00

€

/ ticket
17
Gems of the Saronic Gulf and Eastern Peloponnese
General price:
2800.00

€

/ ticket
18
Gems of the Saronic Gulf and Eastern Peloponnese
General price:
2800.00

€

/ ticket
19
Gems of the Saronic Gulf and Eastern Peloponnese
General price:
2800.00

€

/ ticket
20
Gems of the Saronic Gulf and Eastern Peloponnese
General price:
2800.00

€

/ ticket
21
Gems of the Saronic Gulf and Eastern Peloponnese
General price:
2800.00

€

/ ticket
22
Gems of the Saronic Gulf and Eastern Peloponnese
General price:
2800.00

€

/ ticket
23
Gems of the Saronic Gulf and Eastern Peloponnese
General price:
2800.00

€

/ ticket
24
Gems of the Saronic Gulf and Eastern Peloponnese
General price:
2800.00

€

/ ticket
25
Gems of the Saronic Gulf and Eastern Peloponnese
General price:
2800.00

€

/ ticket
26
Gems of the Saronic Gulf and Eastern Peloponnese
General price:
2800.00

€

/ ticket
27
Gems of the Saronic Gulf and Eastern Peloponnese
General price:
2800.00

€

/ ticket
28
Gems of the Saronic Gulf and Eastern Peloponnese
General price:
2800.00

€

/ ticket
29
Gems of the Saronic Gulf and Eastern Peloponnese
General price:
2800.00

€

/ ticket
30
Gems of the Saronic Gulf and Eastern Peloponnese
General price:
2800.00

€

/ ticket
1
Gems of the Saronic Gulf and Eastern Peloponnese
General price:
2800.00

€

/ ticket
2
Gems of the Saronic Gulf and Eastern Peloponnese
General price:
2800.00

€

/ ticket
3
Gems of the Saronic Gulf and Eastern Peloponnese
General price:
2800.00

€

/ ticket
4
Gems of the Saronic Gulf and Eastern Peloponnese
General price:
2800.00

€

/ ticket
5
Gems of the Saronic Gulf and Eastern Peloponnese
General price:
2800.00

€

/ ticket
29
Gems of the Saronic Gulf and Eastern Peloponnese
General price:
2800.00

€

/ ticket
30
Gems of the Saronic Gulf and Eastern Peloponnese
General price:
2800.00

€

/ ticket
1
Gems of the Saronic Gulf and Eastern Peloponnese
General price:
2800.00

€

/ ticket
2
Gems of the Saronic Gulf and Eastern Peloponnese
General price:
2800.00

€

/ ticket
3
Gems of the Saronic Gulf and Eastern Peloponnese
General price:
2800.00

€

/ ticket
4
Gems of the Saronic Gulf and Eastern Peloponnese
General price:
2800.00

€

/ ticket
5
Gems of the Saronic Gulf and Eastern Peloponnese
General price:
2800.00

€

/ ticket
6
Gems of the Saronic Gulf and Eastern Peloponnese
General price:
2800.00

€

/ ticket
7
Gems of the Saronic Gulf and Eastern Peloponnese
General price:
2800.00

€

/ ticket
8
Gems of the Saronic Gulf and Eastern Peloponnese
General price:
2800.00

€

/ ticket
9
Gems of the Saronic Gulf and Eastern Peloponnese
General price:
2800.00

€

/ ticket
10
Gems of the Saronic Gulf and Eastern Peloponnese
General price:
2800.00

€

/ ticket
11
Gems of the Saronic Gulf and Eastern Peloponnese
General price:
2800.00

€

/ ticket
12
Gems of the Saronic Gulf and Eastern Peloponnese
General price:
2800.00

€

/ ticket
13
Gems of the Saronic Gulf and Eastern Peloponnese
General price:
2800.00

€

/ ticket
14
Gems of the Saronic Gulf and Eastern Peloponnese
General price:
2800.00

€

/ ticket
15
Gems of the Saronic Gulf and Eastern Peloponnese
General price:
2800.00

€

/ ticket
16
Gems of the Saronic Gulf and Eastern Peloponnese
General price:
2800.00

€

/ ticket
17
Gems of the Saronic Gulf and Eastern Peloponnese
General price:
2800.00

€

/ ticket
18
Gems of the Saronic Gulf and Eastern Peloponnese
General price:
2800.00

€

/ ticket
19
Gems of the Saronic Gulf and Eastern Peloponnese
General price:
2800.00

€

/ ticket
20
Gems of the Saronic Gulf and Eastern Peloponnese
General price:
2800.00

€

/ ticket
21
Gems of the Saronic Gulf and Eastern Peloponnese
General price:
2800.00

€

/ ticket
22
Gems of the Saronic Gulf and Eastern Peloponnese
General price:
2800.00

€

/ ticket
23
Gems of the Saronic Gulf and Eastern Peloponnese
General price:
2800.00

€

/ ticket
24
Gems of the Saronic Gulf and Eastern Peloponnese
General price:
2800.00

€

/ ticket
25
Gems of the Saronic Gulf and Eastern Peloponnese
General price:
2800.00

€

/ ticket
26
Gems of the Saronic Gulf and Eastern Peloponnese
General price:
2800.00

€

/ ticket
27
Gems of the Saronic Gulf and Eastern Peloponnese
General price:
2800.00

€

/ ticket
28
Gems of the Saronic Gulf and Eastern Peloponnese
General price:
2800.00

€

/ ticket
29
Gems of the Saronic Gulf and Eastern Peloponnese
General price:
2800.00

€

/ ticket
30
Gems of the Saronic Gulf and Eastern Peloponnese
General price:
2800.00

€

/ ticket
31
Gems of the Saronic Gulf and Eastern Peloponnese
General price:
2800.00

€

/ ticket
1
Gems of the Saronic Gulf and Eastern Peloponnese
General price:
2800.00

€

/ ticket
2
Gems of the Saronic Gulf and Eastern Peloponnese
General price:
2800.00

€

/ ticket
27
Gems of the Saronic Gulf and Eastern Peloponnese
General price:
2800.00

€

/ ticket
28
Gems of the Saronic Gulf and Eastern Peloponnese
General price:
2800.00

€

/ ticket
29
Gems of the Saronic Gulf and Eastern Peloponnese
General price:
2800.00

€

/ ticket
30
Gems of the Saronic Gulf and Eastern Peloponnese
General price:
2800.00

€

/ ticket
31
Gems of the Saronic Gulf and Eastern Peloponnese
General price:
2800.00

€

/ ticket
1
Gems of the Saronic Gulf and Eastern Peloponnese
General price:
2800.00

€

/ ticket
2
Gems of the Saronic Gulf and Eastern Peloponnese
General price:
2800.00

€

/ ticket
3
Gems of the Saronic Gulf and Eastern Peloponnese
General price:
2800.00

€

/ ticket
4
Gems of the Saronic Gulf and Eastern Peloponnese
General price:
2800.00

€

/ ticket
5
Gems of the Saronic Gulf and Eastern Peloponnese
General price:
2800.00

€

/ ticket
6
Gems of the Saronic Gulf and Eastern Peloponnese
General price:
2800.00

€

/ ticket
7
Gems of the Saronic Gulf and Eastern Peloponnese
General price:
2800.00

€

/ ticket
8
Gems of the Saronic Gulf and Eastern Peloponnese
General price:
2800.00

€

/ ticket
9
Gems of the Saronic Gulf and Eastern Peloponnese
General price:
2800.00

€

/ ticket
10
Gems of the Saronic Gulf and Eastern Peloponnese
General price:
2800.00

€

/ ticket
11
Gems of the Saronic Gulf and Eastern Peloponnese
General price:
2800.00

€

/ ticket
12
Gems of the Saronic Gulf and Eastern Peloponnese
General price:
2800.00

€

/ ticket
13
Gems of the Saronic Gulf and Eastern Peloponnese
General price:
2800.00

€

/ ticket
14
Gems of the Saronic Gulf and Eastern Peloponnese
General price:
2800.00

€

/ ticket
15
Gems of the Saronic Gulf and Eastern Peloponnese
General price:
2800.00

€

/ ticket
16
Gems of the Saronic Gulf and Eastern Peloponnese
General price:
2800.00

€

/ ticket
17
Gems of the Saronic Gulf and Eastern Peloponnese
General price:
2800.00

€

/ ticket
18
Gems of the Saronic Gulf and Eastern Peloponnese
General price:
2800.00

€

/ ticket
19
Gems of the Saronic Gulf and Eastern Peloponnese
General price:
2800.00

€

/ ticket
20
Gems of the Saronic Gulf and Eastern Peloponnese
General price:
2800.00

€

/ ticket
21
Gems of the Saronic Gulf and Eastern Peloponnese
General price:
2800.00

€

/ ticket
22
Gems of the Saronic Gulf and Eastern Peloponnese
General price:
2800.00

€

/ ticket
23
Gems of the Saronic Gulf and Eastern Peloponnese
General price:
2800.00

€

/ ticket
24
Gems of the Saronic Gulf and Eastern Peloponnese
General price:
2800.00

€

/ ticket
25
Gems of the Saronic Gulf and Eastern Peloponnese
General price:
2800.00

€

/ ticket
26
Gems of the Saronic Gulf and Eastern Peloponnese
General price:
2800.00

€

/ ticket
27
Gems of the Saronic Gulf and Eastern Peloponnese
General price:
2800.00

€

/ ticket
28
Gems of the Saronic Gulf and Eastern Peloponnese
General price:
2800.00

€

/ ticket
29
Gems of the Saronic Gulf and Eastern Peloponnese
General price:
2800.00

€

/ ticket
30
Gems of the Saronic Gulf and Eastern Peloponnese
General price:
2800.00

€

/ ticket
1
Gems of the Saronic Gulf and Eastern Peloponnese
General price:
2800.00

€

/ ticket
2
Gems of the Saronic Gulf and Eastern Peloponnese
General price:
2800.00

€

/ ticket
3
Gems of the Saronic Gulf and Eastern Peloponnese
General price:
2800.00

€

/ ticket
4
Gems of the Saronic Gulf and Eastern Peloponnese
General price:
2800.00

€

/ ticket
5
Gems of the Saronic Gulf and Eastern Peloponnese
General price:
2800.00

€

/ ticket
6
Gems of the Saronic Gulf and Eastern Peloponnese
General price:
2800.00

€

/ ticket
7
Gems of the Saronic Gulf and Eastern Peloponnese
General price:
2800.00

€

/ ticket
8
Gems of the Saronic Gulf and Eastern Peloponnese
General price:
2800.00

€

/ ticket
9
Gems of the Saronic Gulf and Eastern Peloponnese
General price:
2800.00

€

/ ticket
10
Gems of the Saronic Gulf and Eastern Peloponnese
General price:
2800.00

€

/ ticket
11
Gems of the Saronic Gulf and Eastern Peloponnese
General price:
2800.00

€

/ ticket
12
Gems of the Saronic Gulf and Eastern Peloponnese
General price:
2800.00

€

/ ticket
13
Gems of the Saronic Gulf and Eastern Peloponnese
General price:
2800.00

€

/ ticket
14
Gems of the Saronic Gulf and Eastern Peloponnese
General price:
2800.00

€

/ ticket
15
Gems of the Saronic Gulf and Eastern Peloponnese
General price:
2800.00

€

/ ticket
16
Gems of the Saronic Gulf and Eastern Peloponnese
General price:
2800.00

€

/ ticket
17
Gems of the Saronic Gulf and Eastern Peloponnese
General price:
2800.00

€

/ ticket
18
Gems of the Saronic Gulf and Eastern Peloponnese
General price:
2800.00

€

/ ticket
19
Gems of the Saronic Gulf and Eastern Peloponnese
General price:
2800.00

€

/ ticket
20
Gems of the Saronic Gulf and Eastern Peloponnese
General price:
2800.00

€

/ ticket
21
Gems of the Saronic Gulf and Eastern Peloponnese
General price:
2800.00

€

/ ticket
22
Gems of the Saronic Gulf and Eastern Peloponnese
General price:
2800.00

€

/ ticket
23
Gems of the Saronic Gulf and Eastern Peloponnese
General price:
2800.00

€

/ ticket
24
Gems of the Saronic Gulf and Eastern Peloponnese
General price:
2800.00

€

/ ticket
25
Gems of the Saronic Gulf and Eastern Peloponnese
General price:
2800.00

€

/ ticket
26
Gems of the Saronic Gulf and Eastern Peloponnese
General price:
2800.00

€

/ ticket
27
Gems of the Saronic Gulf and Eastern Peloponnese
General price:
2800.00

€

/ ticket
28
Gems of the Saronic Gulf and Eastern Peloponnese
General price:
2800.00

€

/ ticket
29
Gems of the Saronic Gulf and Eastern Peloponnese
General price:
2800.00

€

/ ticket
30
Gems of the Saronic Gulf and Eastern Peloponnese
General price:
2800.00

€

/ ticket
31
Gems of the Saronic Gulf and Eastern Peloponnese
General price:
2800.00

€

/ ticket
1
Gems of the Saronic Gulf and Eastern Peloponnese
General price:
2800.00

€

/ ticket
2
Gems of the Saronic Gulf and Eastern Peloponnese
General price:
2800.00

€

/ ticket
3
Gems of the Saronic Gulf and Eastern Peloponnese
General price:
2800.00

€

/ ticket
4
Gems of the Saronic Gulf and Eastern Peloponnese
General price:
2800.00

€

/ ticket
29
Gems of the Saronic Gulf and Eastern Peloponnese
General price:
2800.00

€

/ ticket
30
Gems of the Saronic Gulf and Eastern Peloponnese
General price:
2800.00

€

/ ticket
31
Gems of the Saronic Gulf and Eastern Peloponnese
General price:
2800.00

€

/ ticket
1
Gems of the Saronic Gulf and Eastern Peloponnese
General price:
2800.00

€

/ ticket
2
Gems of the Saronic Gulf and Eastern Peloponnese
General price:
2800.00

€

/ ticket
3
Gems of the Saronic Gulf and Eastern Peloponnese
General price:
2800.00

€

/ ticket
4
Gems of the Saronic Gulf and Eastern Peloponnese
General price:
2800.00

€

/ ticket
5
Gems of the Saronic Gulf and Eastern Peloponnese
General price:
2800.00

€

/ ticket
6
Gems of the Saronic Gulf and Eastern Peloponnese
General price:
2800.00

€

/ ticket
7
Gems of the Saronic Gulf and Eastern Peloponnese
General price:
2800.00

€

/ ticket
8
Gems of the Saronic Gulf and Eastern Peloponnese
General price:
2800.00

€

/ ticket
9
Gems of the Saronic Gulf and Eastern Peloponnese
General price:
2800.00

€

/ ticket
10
Gems of the Saronic Gulf and Eastern Peloponnese
General price:
2800.00

€

/ ticket
11
Gems of the Saronic Gulf and Eastern Peloponnese
General price:
2800.00

€

/ ticket
12
Gems of the Saronic Gulf and Eastern Peloponnese
General price:
2800.00

€

/ ticket
13
Gems of the Saronic Gulf and Eastern Peloponnese
General price:
2800.00

€

/ ticket
14
Gems of the Saronic Gulf and Eastern Peloponnese
General price:
2800.00

€

/ ticket
15
Gems of the Saronic Gulf and Eastern Peloponnese
General price:
2800.00

€

/ ticket
16
Gems of the Saronic Gulf and Eastern Peloponnese
General price:
2800.00

€

/ ticket
17
Gems of the Saronic Gulf and Eastern Peloponnese
General price:
2800.00

€

/ ticket
18
Gems of the Saronic Gulf and Eastern Peloponnese
General price:
2800.00

€

/ ticket
19
Gems of the Saronic Gulf and Eastern Peloponnese
General price:
2800.00

€

/ ticket
20
Gems of the Saronic Gulf and Eastern Peloponnese
General price:
2800.00

€

/ ticket
21
Gems of the Saronic Gulf and Eastern Peloponnese
General price:
2800.00

€

/ ticket
22
Gems of the Saronic Gulf and Eastern Peloponnese
General price:
2800.00

€

/ ticket
23
Gems of the Saronic Gulf and Eastern Peloponnese
General price:
2800.00

€

/ ticket
24
Gems of the Saronic Gulf and Eastern Peloponnese
General price:
2800.00

€

/ ticket
25
Gems of the Saronic Gulf and Eastern Peloponnese
General price:
2800.00

€

/ ticket
26
Gems of the Saronic Gulf and Eastern Peloponnese
General price:
2800.00

€

/ ticket
27
Gems of the Saronic Gulf and Eastern Peloponnese
General price:
2800.00

€

/ ticket
28
Gems of the Saronic Gulf and Eastern Peloponnese
General price:
2800.00

€

/ ticket
29
Gems of the Saronic Gulf and Eastern Peloponnese
General price:
2800.00

€

/ ticket
30
Gems of the Saronic Gulf and Eastern Peloponnese
General price:
2800.00

€

/ ticket
31
Gems of the Saronic Gulf and Eastern Peloponnese
General price:
2800.00

€

/ ticket
1
Gems of the Saronic Gulf and Eastern Peloponnese
General price:
2800.00

€

/ ticket
26
Gems of the Saronic Gulf and Eastern Peloponnese
General price:
2800.00

€

/ ticket
27
Gems of the Saronic Gulf and Eastern Peloponnese
General price:
2800.00

€

/ ticket
28
Gems of the Saronic Gulf and Eastern Peloponnese
General price:
2800.00

€

/ ticket
29
Gems of the Saronic Gulf and Eastern Peloponnese
General price:
2800.00

€

/ ticket
30
Gems of the Saronic Gulf and Eastern Peloponnese
General price:
2800.00

€

/ ticket
31
Gems of the Saronic Gulf and Eastern Peloponnese
General price:
2800.00

€

/ ticket
1
Gems of the Saronic Gulf and Eastern Peloponnese
General price:
2800.00

€

/ ticket
2
Gems of the Saronic Gulf and Eastern Peloponnese
General price:
2800.00

€

/ ticket
3
Gems of the Saronic Gulf and Eastern Peloponnese
General price:
2800.00

€

/ ticket
4
Gems of the Saronic Gulf and Eastern Peloponnese
General price:
2800.00

€

/ ticket
5
Gems of the Saronic Gulf and Eastern Peloponnese
General price:
2800.00

€

/ ticket
6
Gems of the Saronic Gulf and Eastern Peloponnese
General price:
2800.00

€

/ ticket
7
Gems of the Saronic Gulf and Eastern Peloponnese
General price:
2800.00

€

/ ticket
8
Gems of the Saronic Gulf and Eastern Peloponnese
General price:
2800.00

€

/ ticket
9
Gems of the Saronic Gulf and Eastern Peloponnese
General price:
2800.00

€

/ ticket
10
Gems of the Saronic Gulf and Eastern Peloponnese
General price:
2800.00

€

/ ticket
11
Gems of the Saronic Gulf and Eastern Peloponnese
General price:
2800.00

€

/ ticket
12
Gems of the Saronic Gulf and Eastern Peloponnese
General price:
2800.00

€

/ ticket
13
Gems of the Saronic Gulf and Eastern Peloponnese
General price:
2800.00

€

/ ticket
14
Gems of the Saronic Gulf and Eastern Peloponnese
General price:
2800.00

€

/ ticket
15
Gems of the Saronic Gulf and Eastern Peloponnese
General price:
2800.00

€

/ ticket
16
Gems of the Saronic Gulf and Eastern Peloponnese
General price:
2800.00

€

/ ticket
17
Gems of the Saronic Gulf and Eastern Peloponnese
General price:
2800.00

€

/ ticket
18
Gems of the Saronic Gulf and Eastern Peloponnese
General price:
2800.00

€

/ ticket
19
Gems of the Saronic Gulf and Eastern Peloponnese
General price:
2800.00

€

/ ticket
20
Gems of the Saronic Gulf and Eastern Peloponnese
General price:
2800.00

€

/ ticket
21
Gems of the Saronic Gulf and Eastern Peloponnese
General price:
2800.00

€

/ ticket
22
Gems of the Saronic Gulf and Eastern Peloponnese
General price:
2800.00

€

/ ticket
23
Gems of the Saronic Gulf and Eastern Peloponnese
General price:
2800.00

€

/ ticket
24
Gems of the Saronic Gulf and Eastern Peloponnese
General price:
2800.00

€

/ ticket
25
Gems of the Saronic Gulf and Eastern Peloponnese
General price:
2800.00

€

/ ticket
26
Gems of the Saronic Gulf and Eastern Peloponnese
General price:
2800.00

€

/ ticket
27
Gems of the Saronic Gulf and Eastern Peloponnese
General price:
2800.00

€

/ ticket
28
Gems of the Saronic Gulf and Eastern Peloponnese
General price:
2800.00

€

/ ticket
29
Gems of the Saronic Gulf and Eastern Peloponnese
General price:
2800.00

€

/ ticket
30
Gems of the Saronic Gulf and Eastern Peloponnese
General price:
2800.00

€

/ ticket
1
Gems of the Saronic Gulf and Eastern Peloponnese
General price:
2800.00

€

/ ticket
2
Gems of the Saronic Gulf and Eastern Peloponnese
General price:
2800.00

€

/ ticket
3
Gems of the Saronic Gulf and Eastern Peloponnese
General price:
2800.00

€

/ ticket
4
Gems of the Saronic Gulf and Eastern Peloponnese
General price:
2800.00

€

/ ticket
5
Gems of the Saronic Gulf and Eastern Peloponnese
General price:
2800.00

€

/ ticket
6
Gems of the Saronic Gulf and Eastern Peloponnese
General price:
2800.00

€

/ ticket
30
Gems of the Saronic Gulf and Eastern Peloponnese
General price:
2800.00

€

/ ticket
1
Gems of the Saronic Gulf and Eastern Peloponnese
General price:
2800.00

€

/ ticket
2
Gems of the Saronic Gulf and Eastern Peloponnese
General price:
2800.00

€

/ ticket
3
Gems of the Saronic Gulf and Eastern Peloponnese
General price:
2800.00

€

/ ticket
4
Gems of the Saronic Gulf and Eastern Peloponnese
General price:
2800.00

€

/ ticket
5
Gems of the Saronic Gulf and Eastern Peloponnese
General price:
2800.00

€

/ ticket
6
Gems of the Saronic Gulf and Eastern Peloponnese
General price:
2800.00

€

/ ticket
7
Gems of the Saronic Gulf and Eastern Peloponnese
General price:
2800.00

€

/ ticket
8
Gems of the Saronic Gulf and Eastern Peloponnese
General price:
2800.00

€

/ ticket
9
Gems of the Saronic Gulf and Eastern Peloponnese
General price:
2800.00

€

/ ticket
10
Gems of the Saronic Gulf and Eastern Peloponnese
General price:
2800.00

€

/ ticket
11
Gems of the Saronic Gulf and Eastern Peloponnese
General price:
2800.00

€

/ ticket
12
Gems of the Saronic Gulf and Eastern Peloponnese
General price:
2800.00

€

/ ticket
13
Gems of the Saronic Gulf and Eastern Peloponnese
General price:
2800.00

€

/ ticket
14
Gems of the Saronic Gulf and Eastern Peloponnese
General price:
2800.00

€

/ ticket
15
Gems of the Saronic Gulf and Eastern Peloponnese
General price:
2800.00

€

/ ticket
16
Gems of the Saronic Gulf and Eastern Peloponnese
General price:
2800.00

€

/ ticket
17
Gems of the Saronic Gulf and Eastern Peloponnese
General price:
2800.00

€

/ ticket
18
Gems of the Saronic Gulf and Eastern Peloponnese
General price:
2800.00

€

/ ticket
19
Gems of the Saronic Gulf and Eastern Peloponnese
General price:
2800.00

€

/ ticket
20
Gems of the Saronic Gulf and Eastern Peloponnese
General price:
2800.00

€

/ ticket
21
Gems of the Saronic Gulf and Eastern Peloponnese
General price:
2800.00

€

/ ticket
22
Gems of the Saronic Gulf and Eastern Peloponnese
General price:
2800.00

€

/ ticket
23
Gems of the Saronic Gulf and Eastern Peloponnese
General price:
2800.00

€

/ ticket
24
Gems of the Saronic Gulf and Eastern Peloponnese
General price:
2800.00

€

/ ticket
25
Gems of the Saronic Gulf and Eastern Peloponnese
General price:
2800.00

€

/ ticket
26
Gems of the Saronic Gulf and Eastern Peloponnese
General price:
2800.00

€

/ ticket
27
Gems of the Saronic Gulf and Eastern Peloponnese
General price:
2800.00

€

/ ticket
28
Gems of the Saronic Gulf and Eastern Peloponnese
General price:
2800.00

€

/ ticket
29
Gems of the Saronic Gulf and Eastern Peloponnese
General price:
2800.00

€

/ ticket
30
Gems of the Saronic Gulf and Eastern Peloponnese
General price:
2800.00

€

/ ticket
31
Gems of the Saronic Gulf and Eastern Peloponnese
General price:
2800.00

€

/ ticket
1
Gems of the Saronic Gulf and Eastern Peloponnese
General price:
2800.00

€

/ ticket
2
Gems of the Saronic Gulf and Eastern Peloponnese
General price:
2800.00

€

/ ticket
3
Gems of the Saronic Gulf and Eastern Peloponnese
General price:
2800.00

€

/ ticket
28
Gems of the Saronic Gulf and Eastern Peloponnese
General price:
2800.00

€

/ ticket
29
Gems of the Saronic Gulf and Eastern Peloponnese
General price:
2800.00

€

/ ticket
30
Gems of the Saronic Gulf and Eastern Peloponnese
General price:
2800.00

€

/ ticket
31
Gems of the Saronic Gulf and Eastern Peloponnese
General price:
2800.00

€

/ ticket
1
Gems of the Saronic Gulf and Eastern Peloponnese
General price:
2800.00

€

/ ticket
2
Gems of the Saronic Gulf and Eastern Peloponnese
General price:
2800.00

€

/ ticket
3
Gems of the Saronic Gulf and Eastern Peloponnese
General price:
2800.00

€

/ ticket
4
Gems of the Saronic Gulf and Eastern Peloponnese
General price:
2800.00

€

/ ticket
5
Gems of the Saronic Gulf and Eastern Peloponnese
General price:
2800.00

€

/ ticket
6
Gems of the Saronic Gulf and Eastern Peloponnese
General price:
2800.00

€

/ ticket
7
Gems of the Saronic Gulf and Eastern Peloponnese
General price:
2800.00

€

/ ticket
8
Gems of the Saronic Gulf and Eastern Peloponnese
General price:
2800.00

€

/ ticket
9
Gems of the Saronic Gulf and Eastern Peloponnese
General price:
2800.00

€

/ ticket
10
Gems of the Saronic Gulf and Eastern Peloponnese
General price:
2800.00

€

/ ticket
11
Gems of the Saronic Gulf and Eastern Peloponnese
General price:
2800.00

€

/ ticket
12
Gems of the Saronic Gulf and Eastern Peloponnese
General price:
2800.00

€

/ ticket
13
Gems of the Saronic Gulf and Eastern Peloponnese
General price:
2800.00

€

/ ticket
14
Gems of the Saronic Gulf and Eastern Peloponnese
General price:
2800.00

€

/ ticket
15
Gems of the Saronic Gulf and Eastern Peloponnese
General price:
2800.00

€

/ ticket
16
Gems of the Saronic Gulf and Eastern Peloponnese
General price:
2800.00

€

/ ticket
17
Gems of the Saronic Gulf and Eastern Peloponnese
General price:
2800.00

€

/ ticket
18
Gems of the Saronic Gulf and Eastern Peloponnese
General price:
2800.00

€

/ ticket
19
Gems of the Saronic Gulf and Eastern Peloponnese
General price:
2800.00

€

/ ticket
20
Gems of the Saronic Gulf and Eastern Peloponnese
General price:
2800.00

€

/ ticket
21
Gems of the Saronic Gulf and Eastern Peloponnese
General price:
2800.00

€

/ ticket
22
Gems of the Saronic Gulf and Eastern Peloponnese
General price:
2800.00

€

/ ticket
23
Gems of the Saronic Gulf and Eastern Peloponnese
General price:
2800.00

€

/ ticket
24
Gems of the Saronic Gulf and Eastern Peloponnese
General price:
2800.00

€

/ ticket
25
Gems of the Saronic Gulf and Eastern Peloponnese
General price:
2800.00

€

/ ticket
26
Gems of the Saronic Gulf and Eastern Peloponnese
General price:
2800.00

€

/ ticket
27
Gems of the Saronic Gulf and Eastern Peloponnese
General price:
2800.00

€

/ ticket
28
Gems of the Saronic Gulf and Eastern Peloponnese
General price:
2800.00

€

/ ticket
29
Gems of the Saronic Gulf and Eastern Peloponnese
General price:
2800.00

€

/ ticket
30
Gems of the Saronic Gulf and Eastern Peloponnese
General price:
2800.00

€

/ ticket
1
Gems of the Saronic Gulf and Eastern Peloponnese
General price:
2800.00

€

/ ticket